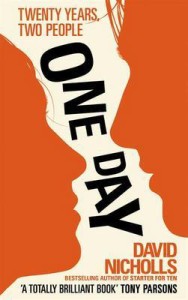 Like all you readers, I have my go-to re-reads. There are the ones I pull out when I want to melt with romance, swoon with heat, cheer for some ass kicking, marvel at the untangling of the mystery and in the case of One Day, muse about life and feel nostalgic.
Synopsis:
Emma and Dexter meet for the first time on the night of their graduation. Tomorrow they must go their separate ways. So where will they be on this one day next year? And the year after that? And every year that follows?
Twenty years, two people, one day.
Why I Love It:
I re-read One Day this time because, for various personal reasons, I was in a nostalgic mood. For me, this story is about hope and potential and how our life can veer so wildly wrong until maybe it's going to finally finally go right and maybe it's not.
While Emma and Dex are older than I am, I remember so clearly that feeling of incredible possibility when I graduated from university. (Not to mention shabby apartments though I lucked out on the roommates situation.) My life was going to start now. I was smart, I worked hard, I was going places. Zero to sixty and I'm off.
Except, it didn't quite work out that way. Life became more a series of fits and starts and that more than anything is why I love this book. It captures missed chances and paths in unforeseen directions. It captures that amazing friendship that veers off track for a while. It's life. Sometimes Dexter and Emma win and sometimes they lose and sometimes they're assholes and stagnate not sure how to escape from the hole of their own making.
But sometimes, the two of them together become this perfect, wonderful pairing and all that hope and possibility come rushing back in. So yes, of course on some level, I love this story for the romance, but that's really just one tiny part of it for me. I love checking in with Dex and Emma every year on this one day to see where they're at. I feel their triumphs so proudly and their losses so keenly.
One Day is a beautiful book. A crying book. A laughing book. A cheering book. But absolutely a book you should read.
Subscribe for bonus content and insider scoops!
Twittering away...
Finally worked my way through my TBR pile to Keystone by Dannika Dark and I'm so glad I did! https://t.co/7mNkl5f3dP https://t.co/DQRCBD1xCf
- Sunday Feb 25 - 4:54pm
Husband just remembered that once, when asked what she wanted to be when she grew up, my kid replied, "I wanna be on stilts!" #soproud
- Friday Feb 23 - 9:25pm
https://t.co/1UHQhm57rN Cautiously optimistic about the premise
- Wednesday Feb 21 - 9:20pm
SPOILER ALERT! A fabulous video that you absolutely SHOULD NOT WATCH if you have not yet seen The Good Place s1 fin… https://t.co/Jqf3UnxHg3
- Tuesday Feb 20 - 4:15am
Lose yourself in a funny, sexy urban fantasy romance! The Unlikeable Demon Hunter: Crave releases Feb 20 and to cel… https://t.co/WPcUSnVRRu
- Sunday Feb 18 - 4:56pm
Tellulah's Old Darlings