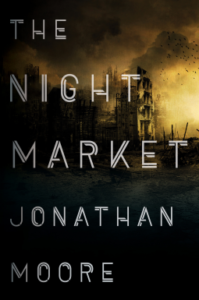 Thriller time, darlings and The Night Market is a great one! Settle in, now for this mystery set in a near-future reality that hits a bit too close to home.
Synopsis:
From an author who consistently gives us "suspense that never stops" (James Patterson), a near-future thriller that makes your most paranoid fantasies seem like child's play.
It's late Thursday night, and Inspector Ross Carver is at a crime scene in one of the city's last luxury homes. The dead man on the floor is covered by an unknown substance that's eating through his skin. Before Carver can identify it, six FBI agents burst in and remove him from the premises. He's pushed into a disinfectant trailer, forced to drink a liquid that sends him into seizures, and is shocked unconscious. On Sunday he wakes in his bed to find his neighbor, Mia—who he's barely ever spoken to—reading aloud to him. He can't remember the crime scene or how he got home; he has no idea two days have passed. Mia says she saw him being carried into their building by plainclothes police officers, who told her he'd been poisoned. Carver doesn't really know this woman and has no way of disproving her, but his gut says to keep her close.   A mind-bending, masterfully plotted thriller—written in Moore's "lush, intoxicating style" (Justin Cronin)—that will captivate fans of Blake Crouch, China Miéville, and Lauren Beukes, The Night Market follows Carver as he works to find out what happened to him, soon realizing he's entangled in a web of conspiracy that spans the nation. And that Mia may know a lot more than she lets on.
Why I Love It:
The Night Market is certainly a thrill ride. It's a great set up with this bizarre crime and then Carver having to not only solve it, but piece together his missing memories at the same time. Carver is your classic hard-boiled detective, swimming through layers of betrayal and corruption while trying to get the skinny on the femme fatale character of Mia.
Tons of twists and turns. The world reminded me of Blade Runner San Francisco-style, which was a plus in my books. And I loved the thematic commentary on a consumer culture run rampant.
Apparently this is the third and final book in a series featuring loosely interconnected characters. I didn't know that at the time, and it didn't impact my reading enjoyment, though it did make me want to go back and read the others. Loved it!
Thank you to NetGalley and Houghton Mifflin Harcourt for a copy in exchange for a fair and honest review.
Subscribe for bonus content and insider scoops!
Tellulah's Old Darlings