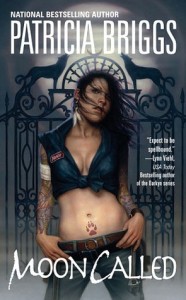 I just finished book 9 of this series and realized that I'd never featured it on Curl up. Shocking omission! So darlings, let me introduce you to the amazing world of Mercy Thompson with the first book, Moon Called.
Synopsis:
Mercedes "Mercy" Thompson is a talented Volkswagen mechanic living in the Tri-Cities area of Washington. She also happens to be a walker, a magical being with the power to shift into a coyote at will. Mercy's next-door neighbor is a werewolf. Her former boss is a gremlin. And she's fixing a bus for a vampire. This is the world of Mercy Thompson, one that looks a lot like ours but is populated by those things that go bump in the night. And Mercy's connection to those things is about to get her into some serious hot water…
Why I Love It:
Where to start? The Mercy Thompson series is so original. First off, she's a mechanic which is all kinds of awesome. Second, it doesn't take place in some huge American city but in Washington State. And not even Seattle. Then there's the mythology which spans everything from fae to Native American lore. And of course the growing relationship between Mercy and Adam, shapeshifter alpha extraordinaire.
Mercy is not only more than capable of holding her own, as a shapeshifting coyote raised in the top alpha pack, she's well aware of how to handle herself with both werewolves and other creatures. Self-reliance, thy name is Mercy. She's smart, capable and unwilling to take BS from anyone. She's also not particularly snarky. Sure, there's a bit but far less than with a lot of urban fantasy heroines. (I love my snark but it's nice to have other voices out there in UF.)
Series are tricky beasts. There are many that I've bailed on by book 5 and even some of my most beloved ones have books that leave me scratching my head and wondering what the author was thinking. I have yet to have that experience with Briggs. Every single book (and I've read 9 of them) grabs my attention and leaves me satisfied. So if you're looking for a new urban fantasy series to fall in love with, pick this one up.
Subscribe for bonus content and insider scoops!
Twittering away...
https://t.co/1UHQhm57rN Cautiously optimistic about the premise
- Wednesday Feb 21 - 9:20pm
SPOILER ALERT! A fabulous video that you absolutely SHOULD NOT WATCH if you have not yet seen The Good Place s1 fin… https://t.co/Jqf3UnxHg3
- Tuesday Feb 20 - 4:15am
Lose yourself in a funny, sexy urban fantasy romance! The Unlikeable Demon Hunter: Crave releases Feb 20 and to cel… https://t.co/WPcUSnVRRu
- Sunday Feb 18 - 4:56pm
Bet you didn't know you could pair tap dancing and Star Wars! https://t.co/GS2qzvH7nJ
- Friday Feb 16 - 8:45pm
Better late than never! Discovered the Haim Time podcast on Beats One. So good!
- Friday Feb 16 - 6:45pm
Tellulah's Old Darlings