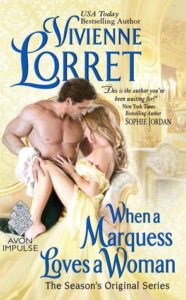 It's two for two on the historical romance front with this week's pick of When a Marquess Loves a Woman. So why did it make the cut?
Synopsis:
As a young, penniless gentleman, Maxwell Harwick knew he had little to offer Juliet White—the most beautiful debutante of the season—except his love, and one thoroughly scandalous kiss. But when they were discovered in a compromising position, a nearly ruined Juliet fled into the arms of a rich, older lord… taking Max's heart with her.
Now a widow, Lady Juliet Granworth intends to use the fortune she inherited from her odious husband to build a new life in London. Five years have passed, but she's never forgotten Max… or his soul-searing kiss. Yet it's clear the newly-minted Marquess of Thayne has not forgiven her—after all, the infuriating man can barely stand the sight of her. But Juliet has endured far too much to give up without a fight and if it's a battle of wills he wants, it's a battle he'll get.
He hates her for breaking his heart. She detests him for destroying her future. But beneath all the loathing simmers an intoxicating passion that neither can ignore… and the harder they resist, the harder they will inevitably fall.
Why I Love It:
I love friends to lovers stories so friends to enemies to lovers is even better! Plus it's a second chance romance. This story is just so delicious. It's sly and wicked and sexy and so so much fun. Max and Juliet are smart characters and that comes out in their constant push/pull of banter and oneupmanship. They are the best of adversaries and wow, do sparks fly.
Like last week's pick which featured a widow with a definite sexual appetite, I'm enjoying the fact that Juliet is also a widow. I like these historical heroines who have a bit more freedom to engage in a sexual liaison and are old enough to perhaps know what they want. Perhaps.
Fighting disguised as foreplay. What's not to love?
Subscribe for bonus content and insider scoops!
Tellulah's Old Darlings