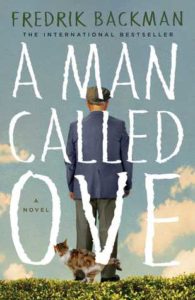 I did not want to read A Man Called Ove. Feel-good novel about grumpy guy? Ugh. Pass. Then I cracked it open and … magic.
Synopsis:
A grumpy yet loveable man finds his solitary world turned on its head when a boisterous young family moves in next door.
Meet Ove. He's a curmudgeon, the kind of man who points at people he dislikes as if they were burglars caught outside his bedroom window. He has staunch principles, strict routines, and a short fuse. People call him the bitter neighbor from hell, but must Ove be bitter just because he doesn't walk around with a smile plastered to his face all the time?
Behind the cranky exterior there is a story and a sadness. So when one November morning a chatty young couple with two chatty young daughters move in next door and accidentally flatten Ove's mailbox, it is the lead-in to a comical and heartwarming tale of unkempt cats, unexpected friendship, and the ancient art of backing up a U-Haul. All of which will change one cranky old man and a local residents' association to their very foundations.
Why I Love It:
I really am a judgmental girl. The synopsis, the cover – all left me eyeing the book laying on my shelf with utter distaste. Honestly, if I hadn't been on vacation, bookless, and feeling like I should at least read a couple pages to tell the friend that had lent it to me that I tried, I would have missed this fabulous, wonderful read.
By the end of chapter 1, I was smiling. By chapter three, I was crying, and then pretty much the rest of the book was alternating between those two states of being. I then handed it over to my husband, because he was now bookless on vacation, too. He does not read these kinds of books. Mystery, fantasy, sure. Dude did not put it down.
I adored Ove and Parvaneh and every single one of the characters . There is not a single misstep.  If the synopsis isn't your thing, then ignore it and just trust me. This is one book you don't want to miss out on. It's so funny and charming in all the best ways and ultimately, an amazing affirmation of life and love. This book punched me in the heart – let it punch you.
Subscribe for bonus content and insider scoops!
Tellulah's Old Darlings