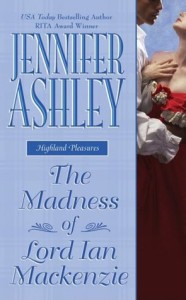 Reading the synopsis, this could be any one of a number of books. But Jennifer Ashley does something so memorable with our hero, that I instantly fell in love with The Madness of Lord Ian Mackenzie – and all the brothers in the series. A love that continued through my recent re-read.
Synopsis:
The year is 1881. Meet the Mackenzie family–rich, powerful, dangerous, eccentric. A lady couldn't be seen with them without ruin. Rumors surround them–of tragic violence, of their mistresses, of their dark appetites, of scandals that set England and Scotland abuzz.
The youngest brother, Ian, known as the Mad Mackenzie, spent most of his young life in an asylum, and everyone agrees he is decidedly odd. He's also hard and handsome and has a penchant for Ming pottery and beautiful women.
Beth Ackerley, widow, has recently come into a fortune. She has decided that she wants no more drama in her life. She was raised in drama–an alcoholic father who drove them into the workhouse, a frail mother she had to nurse until her death, a fussy old lady she became constant companion to. No, she wants to take her money and find peace, to travel, to learn art, to sit back and fondly remember her brief but happy marriage to her late husband.
And then Ian Mackenzie decides he wants her.
Why I Love It:
Those of you who read my reviews on a regular basis know that I love me my alpha heroes. While alphas in historical romance is pretty par for the course, having an autistic alpha is exceedingly rare. In Ashley's capable hands, Lord Ian is shown with all his struggles living with autism at a time when his behaviour and thought processes were enough to have him condemned as insane and thrown into an asylum, while also being portrayed as a fleshed-out individual with passion and intelligence. Did I mention he is also very very alpha? Very very sexy!
As soon as I realized what was going on, I was pretty well hooked. In fact, each of the first 4 books (I haven't read beyond that in this series) effectively deals with some form of "madness" suffered by one of the brothers. Sometimes more inner demon really but I'm good with that.
Let me assure you that the heroines of these books are awesome as well. Three of the 4 female protagonists have ancient history and much baggage with the male leads, which I'm all over. All of them are intelligent, older (especially given the time period) and stubborn as hell. In short, my kinda lady.
Mad Scots and stubborn minxes. No downside.
Subscribe for bonus content and insider scoops!
Twittering away...
Finally worked my way through my TBR pile to Keystone by Dannika Dark and I'm so glad I did! https://t.co/7mNkl5f3dP https://t.co/DQRCBD1xCf
- Sunday Feb 25 - 4:54pm
Husband just remembered that once, when asked what she wanted to be when she grew up, my kid replied, "I wanna be on stilts!" #soproud
- Friday Feb 23 - 9:25pm
https://t.co/1UHQhm57rN Cautiously optimistic about the premise
- Wednesday Feb 21 - 9:20pm
SPOILER ALERT! A fabulous video that you absolutely SHOULD NOT WATCH if you have not yet seen The Good Place s1 fin… https://t.co/Jqf3UnxHg3
- Tuesday Feb 20 - 4:15am
Lose yourself in a funny, sexy urban fantasy romance! The Unlikeable Demon Hunter: Crave releases Feb 20 and to cel… https://t.co/WPcUSnVRRu
- Sunday Feb 18 - 4:56pm
Tellulah's Old Darlings