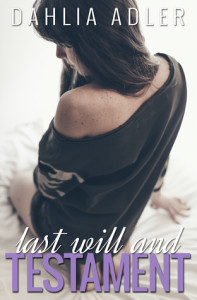 Last Will and Testament is the second of my great new adult reads this week. (See last week's Curl Up for the other one.) So how did this one overcome my NA pet peeves? Let's find out.
Synopsis:
Lizzie Brandt was valedictorian of her high school class, but at Radleigh University, all she's acing are partying and hooking up with the wrong guys. But all that changes when her parents are killed in a tragic accident, making her guardian to her two younger brothers. To keep them out of foster care, she'll have to fix up her image, her life, and her GPA—fast. Too bad the only person on campus she can go to for help is her humorless, pedantic Byzantine History TA, Connor Lawson, who isn't exactly Lizzie's biggest fan.
But Connor surprises her. Not only is he a great tutor, but he's also a pretty great babysitter. And chauffeur. And listener. And he understands exactly what it's like to be on your own before you're ready. Before long, Lizzie realizes having a responsible-adult type around has its perks… and that she'd like to do some rather irresponsible (but considerably adult) things with him as well. Good thing he's not the kind of guy who'd ever reciprocate.
Until he does.
Until they turn into far more than teacher and student.
Until the relationship that helped put their lives back together threatens everything they both have left.
Why I Love It:
Anyone who follows my reviews or rants on my website, knows that I have a specific new adult book beef. I hate hate hate all those books where the broken, victim female protagonist finally comes into her own because of the love of a good man. Like it seriously stopped me from reading any more in this genre for a while. Last week's NA pick on Curl Up was an m/m romance. But this book firmly featured a female protagonist, so I was a bit leery of finding myself back in annoyance territory. I chose to pick it up because I've enjoyed some chats with Ms. Adler as well as her tweets and thought, "Okay, this is the author I'll dive back in into female main character NA with." And I'm thrilled that I did.
I read this book on a plane (I hate flying), coming back from my oldest friend's memorial service. There was a lot of emotional baggage on my part that it was going to have to overcome. But Adler nailed it. Our protagonist, Lizzie is dealing with a lot. Poor choices academically and personally, parents who have just died in a car crash, leaving her in charge of her brothers when she can't even keep her own shit in check. Lizzie is a fighter. Yes, she has her low moments, and yes, there is a (lovely) guy, but ultimately the growth and the determination is all on her. Lizzie is plucky in the all the best ways, has a fabulous sense of humour, excellent sex drive, and ginormous heart.
The book had a bit of a Pride and Prejudice vibe going on for me with our witty heroine Lizzie dealing with family issues and the more uptight Connor in the Darcy role. Never a downside there. Slam this one down on the top of your TBR because it's a delight.
Subscribe for bonus content and insider scoops!
Twittering away...
SPOILER ALERT! A fabulous video that you absolutely SHOULD NOT WATCH if you have not yet seen The Good Place s1 fin… https://t.co/Jqf3UnxHg3
- Tuesday Feb 20 - 4:15am
Lose yourself in a funny, sexy urban fantasy romance! The Unlikeable Demon Hunter: Crave releases Feb 20 and to cel… https://t.co/WPcUSnVRRu
- Sunday Feb 18 - 4:56pm
Bet you didn't know you could pair tap dancing and Star Wars! https://t.co/GS2qzvH7nJ
- Friday Feb 16 - 8:45pm
Better late than never! Discovered the Haim Time podcast on Beats One. So good!
- Friday Feb 16 - 6:45pm
SNL, why did you cut this?! https://t.co/zW8qYyVfc0
- Tuesday Feb 13 - 12:45am
Tellulah's Old Darlings