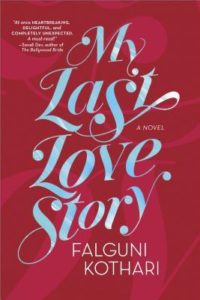 I was introduced to Falguni Kothari, literally, at a panel she did with Sonali Dev (who I totally fangirled over) at RWA last summer about Bollywood and romance novels. That's when I first heard about this book and since she was hilarious and incredibly insightful in her comparisons, I knew I wanted to read My Last Love Story.
Synopsis:
"Till death do us part" takes on a whole new meaning in this wry, evocative novel perfect for fans of P.S. I Love You Simi Desai is thirty years old and her husband is dying of cancer. He has two last wishes in his final months: first, that she'll have his baby so that a piece of him lives on, and second, that she'll reconcile with her old flame, who just happens to be their mutual best friend. And so over the course of their last summer together, Simi's husband plans a series of big and small adventures for this unlikely trio, designed to help them say goodbye to each other and prove to Simi that it's okay to move on without him–and even find love again. Beautiful and poignant, Falguni Kothari's My Last Love Story will pull your heartstrings as only unforgettable love stories can.
Why I Love It:
I didn't read the synopsis before I dove in and all my expectations were based on the title and the cover. Yeah, those were pretty much blown away in the first couple pages for something much better and much richer. I can't remember the last time my stomach was in knots because I was so tense to know how a romance was going to play out.
This is love in all its complicated, brutal, gorgeous, heartbreaking, breathtaking glory. There is no black and white, no right or wrong, just myriad shades of gray and the messiness of the human heart set against cultural expectations and personal tragedy.
A stunning novel and one that I'm so glad I read. I'll be fangirling over Ms. Kothari should I be lucky enough to ever attend another panel of hers.
Thank you to Harlequin (US & Canada), Graydon House, and NetGalley for the opportunity to review this title.
Subscribe for bonus content and insider scoops!
Tellulah's Old Darlings