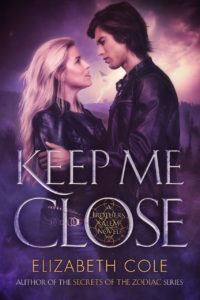 I've got a treat for you today, darlings! I was lucky enough to beta read Elizabeth Cole's novel and I loved it. (Though damn her for having the cleverest tag line for it.) Since Keep Me Close is all about demons, I invited her over to chat about Halloween. The book drops on October 24. Pre-order away, because there is special pricing before it launches!
Rethinking Three Halloween Traditions
Hey, everyone. Elizabeth Cole here. I'm about to publish my very first contemporary paranormal romance, called
 Keep Me Close
. It's the first in a series about a trio of demonhunting brothers who kick supernatural ass, take demonic names, and also meet the very human women they're destined to fall for. Why yes, you can preorder it here: 
https://www.amazon.com/dp/B0761TGB95
All the writing about ghosts, darkness, demons, and evil got me thinking about Halloween. I adore this holiday, but I still think it could use some punching up. Here's how I'd change three of the most popular traditions!
Trick or Treating: Why do we limit this to kids? Children don't need sugar. They're tiny rockets of energy, zipping around constantly. Sugar is actually a detriment, and it harms their little teeth. I say adults should take back Trick or Treat! Grown-ups obviously love costumes just as much as kids, and we rock a sexy version of Fill-in-the-Blank that could make knocking on strangers' door just that more interesting!
Knock, knock!
Who's there?
Sexy!
Sexy who?
Sexy Who-Cares-What-the-Costume-Is-It's-Skimpy-and-I-Deserve-Chocolate-For-Wearing-Fishnet-Tights-All-Night!
*Boom. CHOCOLATE ACHIEVED.*
Jack O'Lanterns: I adore a good, freshly carved Jack O'Lantern. The smell so pumpkiny and warm, and those roasted seeds are the perfect snack. But they don't last long until the rot sets in. And that's sad. So here's what we're going to do. Jack O'Lanterns are going to be regulated. Everyone is allowed to carve them up to three days in advance (hey, I'm not unreasonable.) They are lit through the very witching hour of Halloween itself, and then on November 1st….DONE. Collectively, we as a civilized society take ALL the Jack O'Lanterns and smash them into the streets with glee. Surly teenagers or those who think Circus Peanuts are an acceptable candy (spoiler: they're an abomination) will be tasked with cleaning up the smashed Jack O'Lanterns and putting the mess in the compost. Voila! We have improved the tradition immeasurably, and there's no stinky after-effect.
Summoning Demons: Kids these days, amirite? They are always up to something on their Snapchats or their hoverboards or whatnot. And it's not just kids. I get that people are under a lot of pressure, and that summoning a demon—whether for fun or to impress someone or to grant your deepest, darkest desire—seems pretty logical, but it's one of those things that's fun for a night, but wow do you pay for it later. I think that we've got to cool it on the whole "summoning demons for laughs on Halloween" thing. So when someone suggests summoning a demon on Halloween (or any night), here's a couple of handy responses:
"Ugh, summoning is soooo last year. Let's go make some clever-yet-respectful pumpkin spice memes instead."  Or,
"I summoned demons before, and it was kind of dull, plus the demon was super pushy about getting my soul. Wanna do some Game of Thrones cosplay?"
What do you think? Am I onto something with these updates? Remember, just because something's a tradition, doesn't mean it can't be improved! Happy Halloween, friends!
About Keep Me Close
Hunt demons for thrills, then Netflix and chill.
*** Special preorder pricing now through October 24th ***
Dominic Salem is many things: professional ghost hunter, curse breaker, and demon slayer to name a few. If there's one thing he's learned, it's never pick up hitchhikers. Something about this one made him stop, though. Maybe he hasn't learned his lesson yet.
Lavinia "Vinny" Wake doesn't exactly trust her smoking hot ride. Her music is her sanctuary, the only thing she really believes in. But now, Vinny's dreams have her all messed up, and the last one seemed too…real.
Dom can tell Vinny's nightmares aren't just dreams–they're way worse. Something or someone is drawing her into a trap, and Dom has to stop it. Turns out Vinny's life isn't the only thing at stake. Her soul is on the line, too. No pressure.
The debut novel in The Brothers Salem, a new contemporary paranormal romance series where a trio of demon hunters–armed with spells and snark–are on a mission to slay some demons, break some curses, and get their girls. Unless the girls get them first.
Elizabeth Cole writes historical romance from the medieval era up to the Regency, and also publishes  contemporary paranormal when the need to write in modern slang grows too strong. Her dream is to have everyone know her name and no one to know her face. Writing is a big part of that dream.
She has earned degrees in library science, history, and English. As an accredited scholar in these fields, Elizabeth will have you know that the word fuck has been in written use since at least 1310, and probably even earlier in spoken English. So if you could not lose your shit when fuck appears in her historicals, that'd be great.
Educated as she is, Elizabeth still gets confused about when to use laid and lay. Since she often writes about sex and espionage, this is an ongoing problem.
She was born and raised in Wisconsin, where people are nice even to their enemies. She now lives in Philadelphia, where everybody just grunts. A grunt could mean I love you. It usually doesn't.
Links
Thanks for being here, today, Elizabeth!
xo
Tellulah
Subscribe for bonus content and insider scoops!
Tellulah's Old Darlings