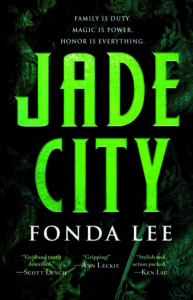 For some reason I thought Jade City was YA and I was all excited to dive in. I mean, it starts with two teens. So what happened when I realized I wasn't getting what I expected?
Synopsis:
FAMILY IS DUTY. MAGIC IS POWER. HONOR IS EVERYTHING.
Magical jade—mined, traded, stolen, and killed for—is the lifeblood of the island of Kekon. For centuries, honorable Green Bone warriors like the Kaul family have used it to enhance their abilities and defend the island from foreign invasion.
Now the war is over and a new generation of Kauls vies for control of Kekon's bustling capital city. They care about nothing but protecting their own, cornering the jade market, and defending the districts under their protection. Ancient tradition has little place in this rapidly changing nation.
When a powerful new drug emerges that lets anyone—even foreigners—wield jade, the simmering tension between the Kauls and the rival Ayt family erupts into open violence. The outcome of this clan war will determine the fate of all Green Bones—from their grandest patriarch to the lowliest motorcycle runner on the streets—and of Kekon itself.
Jade City begins an epic tale of family, honor, and those who live and die by the ancient laws of jade and blood.
Why I Love It:
In her acknowledgments, Lee discusses the merger of Western and Eastern story influences, gangster sagas and kung fu films, and these elements are all readily evident, seamlessly woven together in this compelling tale. The Godfather by way of Bruce Lee and eastern mysticism, seasoned with magic. There is a beautiful specificity to this world where a family dynasty plays out on a Shakespearean scale. For me, this book occupies the same space as other beloved epic series such as J.R. Ward's The Bourbon Kings or Kevin Kwan's Crazy Rich Asians.
The island of Kekon with its rich history, cadences of language, religious mythology, and magic infuses every aspect of the story. It is world building at its finest, place as a main character. Then, upon this strong foundation, Lee gives the Kauls, rulers of a powerful clan, embroiled in warfare for the safety of their people and their very survival. She tackles sibling rivalry, identity, and the burden of living up to family expectations.
This book was the most delightful surprise I've had in a quite a while. Add it to your TBR pile, you won't be disappointed. Can't wait for book 2.
Subscribe for bonus content and insider scoops!
Tellulah's Old Darlings