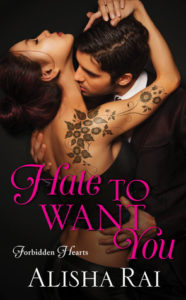 I've been meaning to read Alisha Rai's stuff for a while. Then I picked up Hate to Want You and a while became "must read everything she's ever written NOW!!!"
Synopsis:
One night. No one will know.
That was the deal. Every year, Livvy Kane and Nicholas Chandler would share one perfect night of illicit pleasure. The forbidden hours let them forget the tragedy that haunted their pasts-and the last names that made them enemies.
Until the night she didn't show up.
Now Nicholas has an empire to run. He doesn't have time for distractions and Livvy's sudden reappearance in town is a major distraction. She's the one woman he shouldn't want…so why can't he forget how right she feels in his bed?
Livvy didn't come home for Nicholas, but fate seems determined to remind her of his presence–and their past. Although the passion between them might have once run hot and deep, not even love can overcome the scandal that divided their families.
Being together might be against all the rules…but being apart is impossible.
Why I Love It:
I was in the most delicious agony, desperate for these two to figure things out and get their HEA. This story combines two of my favourite tropes: enemies to lovers and second chances. Plus, how often do you get a steamy romance that deals with the family history of the tragedy of Japanese internment camps?
It's Romeo and Juliet in modern times without all the stupidity! The characters must not only battle family history and their own insecurities around emotional intimacy but depression, in a way that felt very real. The chemistry between Livvy and Nicholas was incredible, and their push and pull had me on the edge of my seat.
The writing is gorgeous; the characters have depth and flaws, and there is just enough humour to balance all the angst. Rai hits every right note with this one and I can't wait to dive into more of her work.
Subscribe for bonus content and insider scoops!
Tellulah's Old Darlings