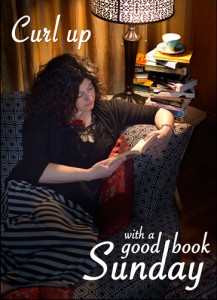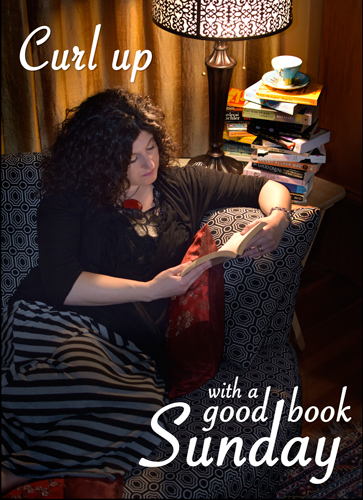 When I first read today's beloved book, I had a giant "squueeee" moment on the level of my love for Hitchhiker's Guide to the Galaxy. Maybe not surprising, since tonally, its of an ilk. But trust me, this is its own puppy and what a charming, fabulous beast it is.
Synopsis:
According to The Nice and Accurate Prophecies of Agnes Nutter, Witch (the world's only completely accurate book of prophecies, written in 1655, before she exploded), the world will end on a Saturday. Next Saturday, in fact. Just before dinner.
So the armies of Good and Evil are amassing, Atlantis is rising, frogs are falling, tempers are flaring. Everything appears to be going according to Divine Plan. Except a somewhat fussy angel and a fast-living demon—both of whom have lived amongst Earth's mortals since The Beginning and have grown rather fond of the lifestyle—are not actually looking forward to the coming Rapture.
And someone seems to have misplaced the Antichrist . . .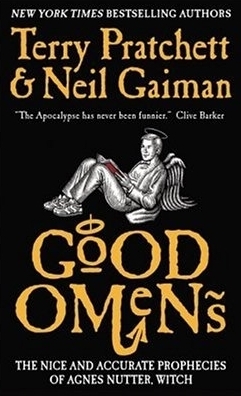 Why I Love It:
*scratches head* Did you not read the synopsis? THAT is why I love it. An angel and a devil who really just like the status quo on earth and would rather their lifestyles not change, thank you very much, decide to stop the apocalypse. Good Omens is full stop awesome.  I love Gaiman. For me, he can do no wrong. And I like Pratchett. But the combination of the two hits this story off-the-charts. The humour runs from sly and dark to over-the-top broad and will have you snickering all the way along. It's a rollercoaster ride to find the Antichrist, stop the apocalypse, mourn a bookstore and learn that sometimes enemies have a lot more in common than allies.
It's no surprise that I'm a big believer in comedy. Not that I think drama is easy but for me, there is such power and beauty in the art of making people laugh while making people think. Good Omens is good comedy. It will have you laughing aloud, bringing a smile to your face and joy to your heart even while it kickstarts critical thoughts on organized religion, organization of people from corporations to countries, and what ultimately brings us together when everything else is trying to tear us apart.
Enjoy!
xo
Tellulah
Subscribe for bonus content and insider scoops!
Twittering away...
https://t.co/1UHQhm57rN Cautiously optimistic about the premise
- Wednesday Feb 21 - 9:20pm
SPOILER ALERT! A fabulous video that you absolutely SHOULD NOT WATCH if you have not yet seen The Good Place s1 fin… https://t.co/Jqf3UnxHg3
- Tuesday Feb 20 - 4:15am
Lose yourself in a funny, sexy urban fantasy romance! The Unlikeable Demon Hunter: Crave releases Feb 20 and to cel… https://t.co/WPcUSnVRRu
- Sunday Feb 18 - 4:56pm
Bet you didn't know you could pair tap dancing and Star Wars! https://t.co/GS2qzvH7nJ
- Friday Feb 16 - 8:45pm
Better late than never! Discovered the Haim Time podcast on Beats One. So good!
- Friday Feb 16 - 6:45pm
Tellulah's Old Darlings