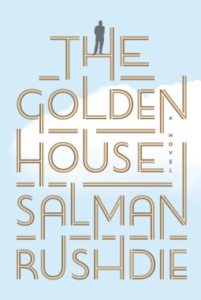 I'm a longtime fan of Salman Rushdie, whose works I find equal parts dazzling and dizzying. His last book didn't really do it for me so would The Golden House measure up?
Synopsis:
A modern American epic set against the panorama of contemporary politics and culture—a hurtling, page-turning mystery that is equal parts The Great Gatsby and The Bonfire of the Vanities
 
On the day of Barack Obama's inauguration, an enigmatic billionaire from foreign shores takes up residence in the architectural jewel of "the Gardens," a cloistered community in New York's Greenwich Village. The neighborhood is a bubble within a bubble, and the residents are immediately intrigued by the eccentric newcomer and his family. Along with his improbable name, untraceable accent, and unmistakable whiff of danger, Nero Golden has brought along his three adult sons: agoraphobic, alcoholic Petya, whose rambling soliloquies are the curse of a tortured mind; Apu, the flamboyant artist, sexually and spiritually omnivorous, famous on twenty blocks; and D, at twenty-two the baby of the family, harboring an explosive secret even from himself. There is no mother, no wife; at least not until Vasilisa, a sleek Russian expat, snags the septuagenarian Nero, becoming the queen to his king—a queen in want of an heir.
Our guide to the Goldens' world is their neighbor René, an ambitious young filmmaker. As research for a movie about the Goldens, he ingratiates himself into their household. Seduced by their mystique, he is inevitably implicated in their quarrels, their infidelities, and, indeed, their crimes. Meanwhile, like a bad joke, a certain comic-book villain embarks upon a crass presidential run that turns New York upside-down.
Set against the strange and exuberant backdrop of current American culture and politics, The Golden House also marks Salman Rushdie's triumphant and exciting return to realism. The result is a modern epic of love and terrorism, loss and reinvention—a powerful, timely story told with the daring and panache that make Salman Rushdie the standard-bearer of our dark new age.
Why I Love It:
This is some serious, epic Greek tragedy. At its heart is the question of "Can a man be both good and evil?" and yet it is also about the role of the storyteller and the unmasking of America. As always, his wordplay is a twisty, tangled delight, filled with a myriad of literary and cinematic references that gladdened the heart of this lifelong reader girl and degree holder of a Masters in Film Theory.
This is a long book, over the top in many ways, but so so clever. I was totally caught up in the lives of the Golden family – Nero and his three sons all cloaked in mystery that the intrepid Réné is hellbent on unraveling for his own artistic pursuits. And so, the narrator becomes part of the story.
And Rushdie's commentary on American politics was brilliant. I suspect this book will earn him as many enemies as fans, but I adored it.
Thank you to Random House and NetGalley for a copy in exchange for a fair and honest review.
Subscribe for bonus content and insider scoops!
Tellulah's Old Darlings