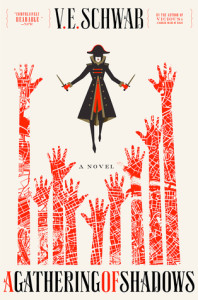 Don't you love it when an already fabulous series just gets better? Why hello, A Gathering of Shadows, I'm looking at you.
Synopsis:
It has been four months since a mysterious obsidian stone fell into Kell's possession. Four months since his path crossed with Delilah Bard. Four months since Prince Rhy was wounded, and since the nefarious Dane twins of White London fell, and four months since the stone was cast with Holland's dying body through the rift – back into Black London.
Now, restless after having given up his smuggling habit, Kell is visited by dreams of ominous magical events, waking only to think of Lila, who disappeared from the docks as she always meant to do. As Red London finalizes preparations for the Element Games – an extravagant international competition of magic meant to entertain and keep healthy the ties between neighboring countries – a certain pirate ship draws closer, carrying old friends back into port.
And while Red London is caught up in the pageantry and thrills of the Games, another London is coming back to life. After all, a shadow that was gone in the night will reappear in the morning. But the balance of magic is ever perilous, and for one city to flourish, another London must fall.
Why I Love It:
First off, I'm a sucker for alternate city stories so when I read book one–A Darker Shade of Magic–with its multiple Londons, Kell of the oddly coloured eyes, and Lila that cross-dressing thief, how could I not fall in love? Thing is, I read the first book when it came out so I didn't really remember much about it except the feels. Doesn't matter. Yes, this book builds upon what came before but Schwab drops in enough reminders that you don't need to do a re-read (though why wouldn't you want to?) Also, this story totally stands on its own.
Lila is dealing with her demons by running away to join a crew of privateers, while Kell and Rhy are dealing with theirs by trying to not kill each other. While there is more romance (barely and still very teasingly), I promise you'll be totally invested in those relationships.
When Rhy organizes a magic tournament and invites the other kingdoms, it's the perfect event for disguises to be worn, steam to be blown off, and beloved thieves to reunite. But treachery is underfoot and Schwab deals a hell of a cliffhanger at the end. She is forgiven only because book three promises to top even these two in its amazingness.
Though I may die of impatience before it ever gets released. 🙁
Subscribe for bonus content and insider scoops!
Twittering away...
https://t.co/1UHQhm57rN Cautiously optimistic about the premise
- Wednesday Feb 21 - 9:20pm
SPOILER ALERT! A fabulous video that you absolutely SHOULD NOT WATCH if you have not yet seen The Good Place s1 fin… https://t.co/Jqf3UnxHg3
- Tuesday Feb 20 - 4:15am
Lose yourself in a funny, sexy urban fantasy romance! The Unlikeable Demon Hunter: Crave releases Feb 20 and to cel… https://t.co/WPcUSnVRRu
- Sunday Feb 18 - 4:56pm
Bet you didn't know you could pair tap dancing and Star Wars! https://t.co/GS2qzvH7nJ
- Friday Feb 16 - 8:45pm
Better late than never! Discovered the Haim Time podcast on Beats One. So good!
- Friday Feb 16 - 6:45pm
Tellulah's Old Darlings