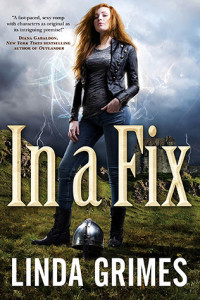 In the mood for a funny UF, I was worried that I'd exhausted all the series possibilities already. Then I stumbled across In a Fix and my problem was solved.
Synopsis:
Snagging a marriage proposal for her client while on an all-expenses-paid vacation should be a simple job for Ciel Halligan, aura adaptor extraordinaire. A kind of human chameleon, she's able to take on her clients' appearances and slip seamlessly into their lives, solving any sticky problems they don't want to deal with themselves. No fuss, no muss. Big paycheck.
This particular assignment is pretty enjoyable… that is, until Ciel's island resort bungalow is blown to smithereens and her client's about-to-be-fiancé is snatched by modern-day Vikings. For some reason, Ciel begins to suspect that getting the ring is going to be a tad more difficult than originally anticipated.
Going from romance to rescue requires some serious gear-shifting, as well as a little backup. Her best friend, Billy, and Mark, the CIA agent she's been crushing on for years—both skilled adaptors—step in to help, but their priority is, annoyingly, keeping her safe. Before long, Ciel is dedicating more energy to escaping their watchful eyes than she is to saving her client's intended.
Suddenly, facing down a horde of Vikings feels like the least of her problems.
Why I Loved It:
As many of you know, I tend to loathe love triangles. Very rarely do I think that the "third wheel" complication is the one that our MC should end up with. However, in this case, I'm team Billy all the way. He's funny, he respects and supports Ciel, and honestly, Mark, the guy I think I'm supposed to root for, has no real personality. So I'm actually looking forward to seeing how this plays out across the series. (Though I reserve the right to change my mind and get annoyed.)
In a Fix is world building lite. There is a fun mythology with our characters able to borrow auras to take on the appearance of others, and lots of room for procedural mayhem with Ciel as a "fixer". She gets hired by people to become them in order to solve problems they can't or won't deal with.
So there's a lot of possibility for the A-plot cases over the series and also a lot of places for the characters to grow. Ciel is by no means perfect. She's a bit whinier than I generally like my heroines, but I see the spunk and backbone in her and I'm totally willing to go along for the ride. Basically, Grimes has given me a great jumping off point in this book, and I'm looking forward to spending more time in this world with her characters.
Subscribe for bonus content and insider scoops!
Twittering away...
SPOILER ALERT! A fabulous video that you absolutely SHOULD NOT WATCH if you have not yet seen The Good Place s1 fin… https://t.co/Jqf3UnxHg3
- Tuesday Feb 20 - 4:15am
Lose yourself in a funny, sexy urban fantasy romance! The Unlikeable Demon Hunter: Crave releases Feb 20 and to cel… https://t.co/WPcUSnVRRu
- Sunday Feb 18 - 4:56pm
Bet you didn't know you could pair tap dancing and Star Wars! https://t.co/GS2qzvH7nJ
- Friday Feb 16 - 8:45pm
Better late than never! Discovered the Haim Time podcast on Beats One. So good!
- Friday Feb 16 - 6:45pm
SNL, why did you cut this?! https://t.co/zW8qYyVfc0
- Tuesday Feb 13 - 12:45am
Tellulah's Old Darlings