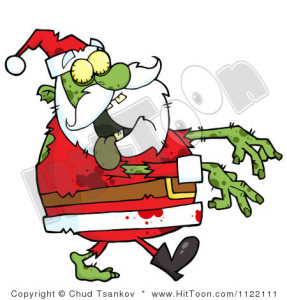 "It's beginning to look a lot like zombies …" Welcome to the holiday season kick off of Curl Up with a Good Book Sunday. Today, it's all about zombies. Not so much santa but I bet more than a few of them were probably eaten by zombies in this phenomenal series. So without further ado, may I present Feed.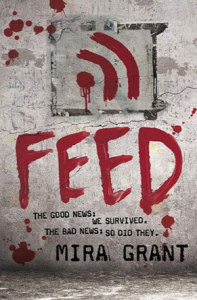 Synopsis:
The year was 2014. We had cured cancer. We had beaten the common cold. But in doing so we created something new, something terrible that no one could stop.
The infection spread, virus blocks taking over bodies and minds with one, unstoppable command: FEED. Now, twenty years after the Rising, bloggers Georgia and Shaun Mason are on the trail of the biggest story of their lives – the dark conspiracy behind the infected.
The truth will get out, even if it kills them.
Why I Love It:
Several years ago, I went to California Adventure Park and decided to ride the coaster. There I was, all belted in and bolted down when a countdown started – 10, 9, 8 … As it got to 3, my thought was, "this seems a lot like what you would have before a rocket blaaaaaassssts offffffff!!!!!" (Yup, that's where the coaster did just that.) And for the duration of that ride, I experienced an adrenaline high as we flipped, shot to the sky, and plummeted to the ground. I got off the coaster lit up with joy, excitement, and buckling legs. A total rush.
Reading Feed was a similar experience, except that when it plummeted to the ground, there were casualties. Including my heart. THIS! This is how you write a zombie book. By not making a zombie book. Feed is an exploration of a society that has risen to cope with zombies. It follows 3 bloggers, Georgia, her brother Shaun and their tech goddess Buffy, as they cover a Presidential campaign, and the difference–in the media and in our entire society really–between fear and terror. Something, that all of us living in the post 9/11 shadow are all too familiar with.
What makes this story so brilliant is how small and intimate it always feels. People, most especially these 3, are firmly at the heart of it. Their desires for the truth, their lives, their loves and yes, their realities in living in a zombie infested world drive the narrative. It's an investigative thriller where zombies happen to be a hell of a complication. Books 2 Deadline and 3 Blackout keep the brilliance going. I think stopped breathing for the last hour of Blackout.
Zombies? Check! Gut wrenching moments? Check! Wit? Sweetness? Check and check! Then throw in crazy global conspiracies and enough life and death situations that left me flipping pages in this trilogy so fast, it's a wonder my fingers aren't bleeding. I have so much love for these characters but most especially Georgia and Shaun. Seriously, there are no words for their greatness.
The only downside is what can I possibly read for the foreseeable future that will make me anything close to this happy?
xo
Tellulah
Subscribe for bonus content and insider scoops!
Twittering away...
Finally worked my way through my TBR pile to Keystone by Dannika Dark and I'm so glad I did! https://t.co/7mNkl5f3dP https://t.co/DQRCBD1xCf
- Sunday Feb 25 - 4:54pm
Husband just remembered that once, when asked what she wanted to be when she grew up, my kid replied, "I wanna be on stilts!" #soproud
- Friday Feb 23 - 9:25pm
https://t.co/1UHQhm57rN Cautiously optimistic about the premise
- Wednesday Feb 21 - 9:20pm
SPOILER ALERT! A fabulous video that you absolutely SHOULD NOT WATCH if you have not yet seen The Good Place s1 fin… https://t.co/Jqf3UnxHg3
- Tuesday Feb 20 - 4:15am
Lose yourself in a funny, sexy urban fantasy romance! The Unlikeable Demon Hunter: Crave releases Feb 20 and to cel… https://t.co/WPcUSnVRRu
- Sunday Feb 18 - 4:56pm
Tellulah's Old Darlings