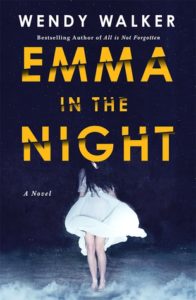 I was totally in the mood to get lost in a thriller and got very excited when Emma in the Night popped up on my radar.
Synopsis:
From the bestselling author of All Is Not Forgotten comes a thriller about two missing sisters, a twisted family, and what happens when one girl comes back…
One night five years ago, the Tanner sisters disappeared: fifteen-year-old Cass and seventeen-year-old Emma. Three years later, Cass returns, without her sister Emma. Her story is one of kidnapping and betrayal, of a mysterious island where the two were held. But to forensic psychiatrist Dr. Abby Winter, something doesn't add up. Looking deep within this dysfunctional family Dr. Winter uncovers a life where boundaries were violated and a narcissistic parent held sway. And where one sister's return might just be the beginning of the crime.
Why I Love It:
I'm fascinated by narcissism in its psychological disorder sense, not the "vain" way it's commonly used. It's a condition that leaves a legacy of abuse, so combined with the hook of this child who disappeared coming back, I couldn't wait to dive in.
I couldn't flip the pages fast enough to watch this story unwind. Cass is an unreliable narrator with an murky agenda that I couldn't wait to decipher. Like Abby, the forensic psychiatrist, I kept trying to sort the nuggets of truth from this spiderweb of a tale.
Heartbreaking, enthralling, and a definite must-read, if you enjoy getting lost in a thriller, you'll want to pick up Emma in the Night. I got an ARC so you'll have to wait until August 8, but trust me, the wait will be worth it.
Thank you to NetGalley and St. Martin's Press for a copy in exchange for a fair and honest review.
Subscribe for bonus content and insider scoops!
Tellulah's Old Darlings