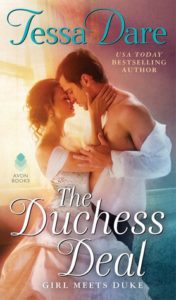 While Tessa Dare wrote one of my favourite HRs of all time, not all her books have worked for me, so I went into The Duchess Deal with equal parts hope and trepidation.
Synopsis:
When girl meets Duke, their marriage breaks all the rules… 
Since his return from war, the Duke of Ashbury's to-do list has been short and anything but sweet: brooding, glowering, menacing London ne'er-do-wells by night. Now there's a new item on the list. He needs an heir—which means he needs a wife. When Emma Gladstone, a vicar's daughter turned seamstress, appears in his library wearing a wedding gown, he decides on the spot that she'll do.
His terms are simple:
– They will be husband and wife by night only.
– No lights, no kissing.
– No questions about his battle scars.
– Last, and most importantly… Once she's pregnant with his heir, they need never share a bed again.
But Emma is no pushover. She has a few rules of her own:
– They will have dinner together every evening.
– With conversation.
– And unlimited teasing.
– Last, and most importantly… Once she's seen the man beneath the scars, he can't stop her from falling in love…
Why I Love It:
Call me shallow, but fire-scarred heroes generally don't do it for me. I like my dukes to be as dashing as they are arrogant. (Told you you could call me shallow.) Well, that preference went out the window with this book. Was I a sucker for Ashbury's self-deprecating humour and understandable emotional shields? You bet. But he's was just so funny and smart. And yes, self-destructive in a way that made my cold heart weep.
Now I must bow down to Ms. Dare for giving me yet another female HR protagonist to adore. Emma is a seamstress with a decidedly different view of the upper classes. What a delight. For every barb the duke slung her way, she came back with two. Her intelligence was front and centre, matched only by her determination to outwit him.
LOOOVE! The Duchess Deal was pure escapist joy. Read it.
Subscribe for bonus content and insider scoops!
Tellulah's Old Darlings