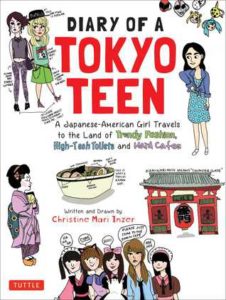 For all that I read and write YA, I've never featured a book here on Curl up written by a teen. Very happy that that is about to change with today's offering of Diary of a Tokyo Teen.
Synopsis:
Born in Tokyo to a Japanese mother and an American father in 1997, Christine Mari Inzer spent her early years in Japan and relocated to the United States in 2003. The summer before she turned sixteen, she returned to Tokyo, making a solo journey to get reacquainted with her birthplace. Through illustrations, photos, and musings, Inzer documented her journey.
In Diary of a Tokyo Teen, Inzer explores the cutting-edge fashions of Tokyo's trendy Harajuku district, eats the best sushi of her life at the renowned Tsukiji fish market, and hunts down geisha in the ancient city of Kyoto. As she shares the trials and pleasures of travel from one end of a trip to the other, Inzer introduces the host of interesting characters she meets and offers a unique—and often hilarious—look at a fascinating country and an engaging tale of one girl rediscovering her roots.
Why I Love It:
This graphic novel is totally charming! It's a super fast read about Inzer going to Tokyo at 16 to reconnect with her family and heritage. I found her travelogue to be delightful, especially since I'd been to most of the places she describes. Wow, do I miss Japan.
Beyond that though, Diary reminded me of what it was like being a teenager and traveling in a culture that is familiar and yet not. She perfectly captured my memory of being somewhere (Italy, in my case) and thinking all the other teens were impossibly cool, while I was super awkward and everyone could see how I was faking any semblance of maturity or having a clue.
I really enjoyed seeing Japan through her eyes. If you love Japan, or even just want a fresh, fun glimpse into Japanese culture, pick this up.
Subscribe for bonus content and insider scoops!
Twittering away...
Learned my 16 yr old thought the guys from One Direction were named Wade & Kyle. Even I know better than that. Good job, honey. Good job.
- Tuesday Jan 16 - 12:55am
I Believe in a Thing Called Love by @mauxbot is a total delight and I cannot pimp it out hard enough! Read this boo… https://t.co/RbHKKTkU7a
- Sunday Jan 14 - 5:58pm
These are fantastic! https://t.co/cVCSZiTWhP
- Friday Jan 12 - 5:35pm
Prince owns Gershwin's Summertime in jazz piano number. Gorgeous! https://t.co/M8fVFeOYoA
- Thursday Jan 11 - 2:35am
Yes to everything about this article! https://t.co/H6xQ6KcArV
- Monday Jan 8 - 8:35pm
Tellulah's Old Darlings