Time for some man luuuv today, darlings. (Hubby, you may stop reading now …) I read a lot of m/m romance. I guess like all genres, there's a ton of crap out there. Somehow, I tend to find more trash than treasure. A fact I was painfully reminded of this past week as I slogged through an m/m (which shall remain nameless) and found myself skipping the steam, desperate to find plot or a semblance of character growth. Never a good sign. So, thus do I declare the importance of sharing a great series with not one, but two fabulous alphas.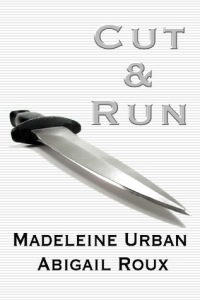 Synopsis:
A series of murders in New York City has stymied the police and FBI alike, and they suspect the culprit is a single killer sending an indecipherable message. But when the two federal agents assigned to the investigation are taken out, the FBI takes a more personal interest in the case. Special Agent Ty Grady is pulled out of undercover work after his case blows up in his face. He's cocky, abrasive, and indisputably the best at what he does. But when he's paired with Special Agent Zane Garrett, it's hate at first sight. Garrett is the perfect image of an agent: serious, sober, and focused, which makes their partnership a classic cliche: total opposites, good cop-bad cop, the odd couple. They both know immediately that their partnership will pose more of an obstacle than the lack of evidence left by the murderer. Practically before their special assignment starts, the murderer strikes again – this time at them. Now on the run, trying to track down a man who has focused on killing his pursuers, Grady and Garrett will have to figure out how to work together before they become two more notches in the murderer's knife."
Why I Love This Book:
Weeelll, this is actually a case of book one is okay but trust me, stick with the series because overall, it's so worth it. The books follow Ty and Zane, the odd couple of the FBI world, who despite their initial insta-hate, are actually hot for each other. I've said from the beginning that I was never into this series for the FBI case of the week. Nope, it's all about the growth of their relationship. And despite what you may be thinking, growth is not a euphemism. Their relationship, for all its steam, is quite the emotional roller coaster. It's sweet and funny and awkard and so much fun that I've not only read 8 books in this series, I've also read the 2 books in the Sidewinder spin-off. Which may even be better in terms of sweetness. Trust me, hot guy-on-guy action is not enough to keep me reading (and re-reading) a series for that many books. Even better, there is actual character growth. Painful, slow, with backsliding and frustrations and messiness. Just like real life. If you're a fan of gay romance, and haven't picked this series up yet, then I suggest you dive in. And if you've wanted to test the waters in that genre, then start here.
Happy reading!
xo
Tellulah
Subscribe for bonus content and insider scoops!
Tellulah's Old Darlings