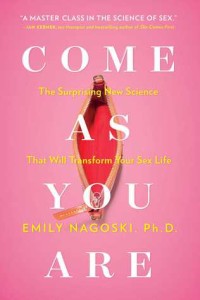 I always wished that I'd studied human sexuality as my career and Come As You Are is the book that I wish I could have written. Not only does Nagoski make the science around sexuality easy to understand, she's funny and nerdy.
Synopsis:
An essential exploration of why and how women's sexuality works—based on groundbreaking research and brain science—that will radically transform your sex life into one filled with confidence and joy.
Researchers have spent the last decade trying to develop a "pink pill" for women to function like Viagra does for men. So where is it? Well, for reasons this book makes crystal clear, that pill will never exist—but as a result of the research that's gone into it, scientists in the last few years have learned more about how women's sexuality works than we ever thought possible, and Come as You Are explains it all.
The first lesson in this essential, transformative book by Dr. Emily Nagoski is that every woman has her own unique sexuality, like a fingerprint, and that women vary more than men in our anatomy, our sexual response mechanisms, and the way our bodies respond to the sexual world. So we never need to judge ourselves based on others' experiences. Because women vary, and that's normal.
Second lesson: sex happens in a context. And all the complications of everyday life influence the context surrounding a woman's arousal, desire, and orgasm.
Cutting-edge research across multiple disciplines tells us that the most important factor for women in creating and sustaining a fulfilling sex life, is not what you do in bed or how you do it, but how you feel about it. Which means that stress, mood, trust, and body image are not peripheral factors in a woman's sexual wellbeing; they are central to it. Once you understand these factors, and how to influence them, you can create for yourself better sex and more profound pleasure than you ever thought possible.
And Emily Nagoski can prove it.
Why I Love It:
Nagoski takes us on a journey from anatomy, through the mechanics of sex, to self-criticism, the emotional One Ring (to rule them all, of course), rats with lemon fetishes, and how context is everything. Above all, the message Nagoski gives women is despite our variety of sexual stimuli, responses, and differences in body formation, we are all gloriously normal.
With physical science, psychology, and a straight-forward deconstruction of the bullshit cultural messages women are exposed to on a constant and pervasive basis, she takes an important step towards creating a world in which woman can fully love themselves and their sexuality. All yum no yuck.
Every woman should read this book. Hell, every person should read this book, it's that important.
Subscribe for bonus content and insider scoops!
Twittering away...
SPOILER ALERT! A fabulous video that you absolutely SHOULD NOT WATCH if you have not yet seen The Good Place s1 fin… https://t.co/Jqf3UnxHg3
- Tuesday Feb 20 - 4:15am
Lose yourself in a funny, sexy urban fantasy romance! The Unlikeable Demon Hunter: Crave releases Feb 20 and to cel… https://t.co/WPcUSnVRRu
- Sunday Feb 18 - 4:56pm
Bet you didn't know you could pair tap dancing and Star Wars! https://t.co/GS2qzvH7nJ
- Friday Feb 16 - 8:45pm
Better late than never! Discovered the Haim Time podcast on Beats One. So good!
- Friday Feb 16 - 6:45pm
SNL, why did you cut this?! https://t.co/zW8qYyVfc0
- Tuesday Feb 13 - 12:45am
Tellulah's Old Darlings