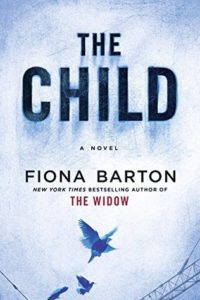 Here at Tellulah Darling enterprises, we (meaning me and all the character voices in my head) like nothing better on a drizzly Sunday than to snuggle under our favourite blanket, ensconced with a great mystery. Fiona Barton's The Child perfectly hit the spot.
Synopsis:
As an old house is demolished in a gentrifying section of London, a workman discovers a tiny skeleton, buried for years. For journalist Kate Waters, it's a story that deserves attention. She cobbles together a piece for her newspaper, but at a loss for answers, she can only pose a question: Who is the Building Site Baby?
As Kate investigates, she unearths connections to a crime that rocked the city decades earlier: A newborn baby was stolen from the maternity ward in a local hospital and was never found. Her heartbroken parents were left devastated by the loss.
But there is more to the story, and Kate is drawn—house by house—into the pasts of the people who once lived in this neighborhood that has given up its greatest mystery. And she soon finds herself the keeper of unexpected secrets that erupt in the lives of three women—and torn between what she can and cannot tell…
Why I Love It:
Not only is The Child a delicious mystery, at its centre is Kate, a formidable investigative reporter stuck in the reality of a news industry pushing celebrity headlines. In addition to her POV, the story also unfolds from the perspective of two other women and the question becomes, how does the discovery of a baby's remains tie them all together?
This is a great read for anyone who enjoys thrillers with multiple POVs, and a whydunnit mystery. The pacing unfolds beautifully, amping up as Kate's findings take us deeper and deeper into the this tangled web. Barton's characters were intensely compelling, each woman struggling with profound issues of grief, loss, and identity, weaving us through the tapestry of their lives. I'm definitely going to go back and read Barton's first novel now.
Thank you to NetGalley and Berkley Publishing Group for a copy.
Subscribe for bonus content and insider scoops!
Tellulah's Old Darlings