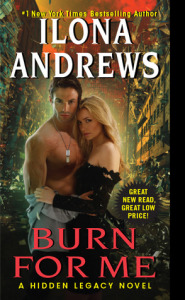 Ilona Andrews, one of my favourite urban fantasy authors blows book one of her new series out of the water with Burn For Me. Ignore all elements of cheese on the cover and keep reading. Trust me.
Synopsis:
#1 New York Times bestselling author Ilona Andrews launches a brand new Hidden Legacy series, in which one woman must place her trust in a seductive, dangerous man who sets off an even more dangerous desire…
Nevada Baylor is faced with the most challenging case of her detective career—a suicide mission to bring in a suspect in a volatile case. Nevada isn't sure she has the chops. Her quarry is a Prime, the highest rank of magic user, who can set anyone and anything on fire.
Then she's kidnapped by Connor "Mad" Rogan—a darkly tempting billionaire with equally devastating powers. Torn between wanting to run or surrender to their overwhelming attraction, Nevada must join forces with Rogan to stay alive.
Rogan's after the same target, so he needs Nevada. But she's getting under his skin, making him care about someone other than himself for a change. And, as Rogan has learned, love can be as perilous as death, especially in the magic world.
Why I Love It:
Here's my problem with falling in love with a specific series – I expect all subsequent series from said author to be equally as amazing. Now, I've chatted about Andrews' Magic books here on Curl Up before. It's one of my all-time favourite urban fantasy series. And I do love me that genre. Sadly, the next series of hers that I tried to read (and by "hers", I actually mean a husband and wife team, which really adds to the writing) called Clean Sweep, did nothing for me. It just saddened me with my meh reaction to it. Understandably then, I was nervous about picking this up.
I really needn't have worried. *dances around singing lalala* SO much love for this book! Everything about the story rocked. Nevada, our protagonist, is one smart, funny, badass, compassionate, and fiercely loyal chick – an awesome book BFF. The plot is tight and hot and tense. Set in Houston, not Atlanta, there is a different mythological bent than in the Magic books. She understands how to dish the world building out to keep things interesting but never overwhelming.
And the other characters are a delight. Nevada's entire family is vibrant and fun and felt very real. Pierce is completely believable as a narcissistic psychopath, capable of great charm, while her love/hate issues with Rogan, again made total sense given who they both were. At no time did I find myself banging my head in disgust at her romantic decisions. Which, honestly? Happens a lot in UF for me.
Everything to recommend about this one, darlings.
Subscribe for bonus content and insider scoops!
Twittering away...
https://t.co/1UHQhm57rN Cautiously optimistic about the premise
- Wednesday Feb 21 - 9:20pm
SPOILER ALERT! A fabulous video that you absolutely SHOULD NOT WATCH if you have not yet seen The Good Place s1 fin… https://t.co/Jqf3UnxHg3
- Tuesday Feb 20 - 4:15am
Lose yourself in a funny, sexy urban fantasy romance! The Unlikeable Demon Hunter: Crave releases Feb 20 and to cel… https://t.co/WPcUSnVRRu
- Sunday Feb 18 - 4:56pm
Bet you didn't know you could pair tap dancing and Star Wars! https://t.co/GS2qzvH7nJ
- Friday Feb 16 - 8:45pm
Better late than never! Discovered the Haim Time podcast on Beats One. So good!
- Friday Feb 16 - 6:45pm
Tellulah's Old Darlings