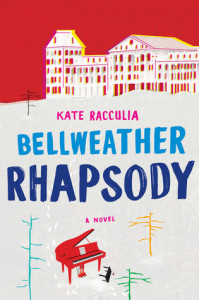 I have a sneaking suspicion that between this cover and the title, that if I'd seen Bellwether Rhapsody before having it recommended to me, I wouldn't have given it a second glance and that would have been a real shame.
Synopsis:
A high school music festival goes awry when a young prodigy disappears from a hotel room that was the site of a famous murder/suicide fifteen years earlier, in a whip-smart novel sparkling with the dark and giddy pop culture pleasures of The Shining, Agatha Christie, and Glee.
Why I Love It:
Falling in love with a book is a wonderful sensation. That first flush of connection, that giddiness every time I pick it up and spend more time with it, that high tinged with bittersweet once I finish it and know it's over. I fell hard for this book. Here's what I knew about it going in: it had 80s and 90s pop culture references and fans of Rainbow Rowell would love it. That's it. I didn't even really know what it was about. Actually, reading the synopsis doesn't do it justice.
Yes, it's the events of a weekend during a high school music conference so it's a coming of age story. But it's also a whodunnit, a whydunnit, an overcoming personal demons story, a love story, a love letter, and about a million other things.
The writing is gorgeous-especially the way Racculia describes music, the pop culture references are a ton of fun, and the characters are delightful. Trust me on this, pick up this book, and fall in love.
Subscribe for bonus content and insider scoops!
Tellulah's Old Darlings