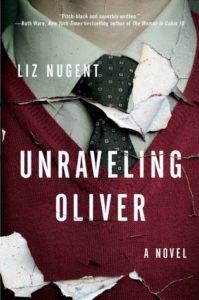 I'm not sure what's up with me lately because I've been DNFing a lot of books. So I was kind of grim when I picked up Unraveling Oliver, resigned to more of the same. Nope. I was so wrong.
Synopsis:
"I expected more of a reaction the first time I hit her."
So begins Liz Nugent's astonishing debut novel—a chilling, elegantly crafted, and psychologically astute exploration of the nature of evil.
Oliver Ryan, handsome, charismatic, and successful, has long been married to his devoted wife, Alice. Together they write and illustrate award-winning children's books; their life together one of enviable privilege and ease—until, one evening after a delightful dinner, Oliver delivers a blow to Alice that renders her unconscious, and subsequently beats her into a coma.
In the aftermath of such an unthinkable event, as Alice hovers between life and death, the couple's friends, neighbors, and acquaintances try to understand what could have driven Oliver to commit such a horrific act. As his story unfolds, layers are peeled away to reveal a life of shame, envy, deception, and masterful manipulation.
Why I Like It:
"Unraveling" is the perfect way to describe this story as we peel away the layers of various narrators with varying degrees of reliability, to get to the truth of who Oliver is and what he's done. I think a big reason of why this book really appealed to me was timing. There is a lot of unrest in our world these days, and a lot of people behaving in ways I just don't understand. So here was an opportunity to get inside the head of this one man and try to comprehend why he behaved the way he did. How he could act so callously.
The answers aren't pretty, but then again, I didn't expect them to be. And even having the answers, I wasn't particularly satisfied, but I think that's what also made this book work for me. Would I be satisfied in real life knowing why someone had committed X or done Y? Not really. The knowing doesn't make it easier. And I appreciated that Nugent didn't try to manipulate us into an acceptance of Oliver's actions–or any real forgiveness.
If you're looking for a chilling albeit interesting psychological portrait, then you'll enjoy Unraveling Oliver.
Subscribe for bonus content and insider scoops!
Tellulah's Old Darlings