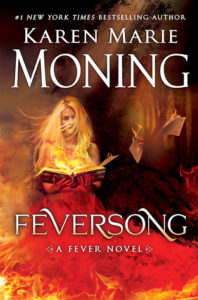 With Feversong, one of my most beloved series comes to an end. So, did it go out with a bang or a whimper?
Synopsis:
#1 New York Times bestselling author Karen Marie Moning returns with the epic conclusion to her pulse-pounding Fever series, where a world thrown into chaos grows more treacherous at every turn. As Mac, Barrons, Ryodan, and Jada struggle to restore control, enemies become allies, right and wrong cease to exist, and the lines between life and death, lust and love, disappear completely.
Black holes loom menacingly over Dublin, threatening to destroy the Earth. Yet the greatest danger is the one MacKayla Lane has unleashed from within: the Sinsar Dubh—a sentient book of unthinkable evil—has possessed her body and will stop at nothing in its insatiable quest for power.
The fate of Man and Fae rests on destroying the book and recovering the long-lost Song of Making, the sole magic that can repair the fragile fabric of the Earth. But to achieve these aims, sidhe-seers, the Nine, Seelie, and Unseelie must form unlikely alliances and make heart-wrenching choices. For Barrons and Jada, this means finding the Seelie Queen who alone can wield the mysterious song, negotiating with a lethal Unseelie prince hell-bent on ruling the Fae courts, and figuring out how to destroy the Sinsar Dubh while keeping Mac alive.
This time, there's no gain without sacrifice, no pursuit without risk, no victory without irrevocable loss. In the battle for Mac's soul, every decision exacts a tremendous price.
Why I Love It:
Let me recap my feelings for the other books in this series:
Books 1-5: Brilliant! The series could have ended there and it would have been perfection.
Book 6: Some rather large WTF moments.
Book 7: Just nope.
Book 8: Back on the love train! Wheeeee!
Book 9: Exceedingly doubtful for first few chapters, then turning pages faster and faster, sobbing my eyes out towards the end, and finishing up with a giant smile on my face as I pressed the book to my heart.
For those of you who have yet to pick up this series, I can't stress doing so enough. Even with the books 6&7 mishaps. This is a brilliant urban fantasy series set against a fascinating and original mythology of fae, Dublin, and other things that go bump in the night. Then for our main character, we have MacKayla Lane, on the hunt to find out who murdered her sister, and about to have a hell of a coming-of-age story. (She's in her early twenties and this all takes place over 1 year.)
Next up, is the enigmatic Jericho Barrons, my (note the possessive because I will hurt you) book boyfriend, who keeps her on edge even as he pushes her to be more, do more and generally annoys the crap out of her but always has her back. Or does he? Mwah-ha-ha.
There isn't a dud secondary character in the batch. And actually the death that hit me hardest in this entire series was a character who started out as relatively minor. If you're curious who I mean, email me. But read all the books first so I don't spoil anything.
Eminently satisfying. There will be many re-reads in my future.
Subscribe for bonus content and insider scoops!
Twittering away...
Learned my 16 yr old thought the guys from One Direction were named Wade & Kyle. Even I know better than that. Good job, honey. Good job.
- Tuesday Jan 16 - 12:55am
I Believe in a Thing Called Love by @mauxbot is a total delight and I cannot pimp it out hard enough! Read this boo… https://t.co/RbHKKTkU7a
- Sunday Jan 14 - 5:58pm
These are fantastic! https://t.co/cVCSZiTWhP
- Friday Jan 12 - 5:35pm
Prince owns Gershwin's Summertime in jazz piano number. Gorgeous! https://t.co/M8fVFeOYoA
- Thursday Jan 11 - 2:35am
Yes to everything about this article! https://t.co/H6xQ6KcArV
- Monday Jan 8 - 8:35pm
Tellulah's Old Darlings