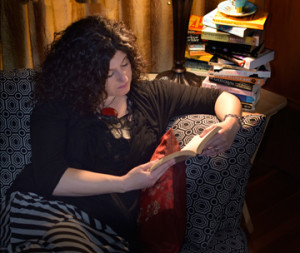 How come some books make us want to fall into them, time and time again despite knowing exactly what happens? I'm on my umpteenth re-read of Written in Red, a book which I have to fight my daughter for since her re-reads of it exceed even mine. Now, she's 13, and while we definitely share many book tastes, there's a lot of stuff I like that she doesn't and vice versa. But this story? It gets to both of us on some primal, must-have level.
There are a lot of other five star reads that I have no desire to read for a second time. So what is it about certain books that every so often, I'm itching to pick up again? Off the top of my head, a few of them come to mind: Franny and Zooey by Salinger, Karen Marie Moning's Fever series, Nine Rules to Break When Romancing a Rake by Sarah MacLean, and Anne Bishop's Written in Red series.
It's not like there's really any romance in this last one. Not really. Not the way I usually want it. And yes, it is fantasy but even that isn't some epic questing kind of thing. I just want to spend time with Simon and Meg and all the Others because it makes my heart happy.
There is no such thing as a universally beloved book. But it's kind of interesting that certain books become our touchstones. So I'm wondering, what are your touchstones? And why?
Subscribe for bonus content and insider scoops!
Twittering away...
Finally worked my way through my TBR pile to Keystone by Dannika Dark and I'm so glad I did! https://t.co/7mNkl5f3dP https://t.co/DQRCBD1xCf
- Sunday Feb 25 - 4:54pm
Husband just remembered that once, when asked what she wanted to be when she grew up, my kid replied, "I wanna be on stilts!" #soproud
- Friday Feb 23 - 9:25pm
https://t.co/1UHQhm57rN Cautiously optimistic about the premise
- Wednesday Feb 21 - 9:20pm
SPOILER ALERT! A fabulous video that you absolutely SHOULD NOT WATCH if you have not yet seen The Good Place s1 fin… https://t.co/Jqf3UnxHg3
- Tuesday Feb 20 - 4:15am
Lose yourself in a funny, sexy urban fantasy romance! The Unlikeable Demon Hunter: Crave releases Feb 20 and to cel… https://t.co/WPcUSnVRRu
- Sunday Feb 18 - 4:56pm
Tellulah's Old Darlings