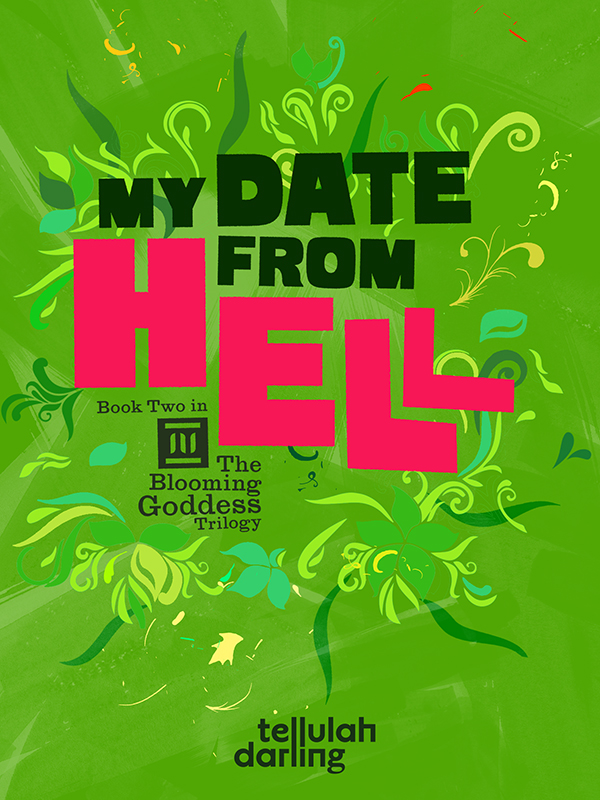 With my second YA romantic comedy book My Ex From Hell happily launched – and please keep spreading the word – I thought I'd tease you all with the cover reveal for My Date From Hell which is book two in the Blooming Goddess Trilogy. 🙂
Whaddya think?
Eventually, when all three books are laid out side by side, you'll be able to see thematically how they progress from the idea of emerge (winter colours book 1) through to grow (spring palette book 2) and finally bloom (summer richness book 3) – to mirror Sophie's journey.
What's Sophie up to this time, you ask? Why, let me tell you.
Sophie Bloom's junior year has been a bit of a train wreck. After the world's greatest kiss re-awakened Sophie's true identity as Persephone (Goddess of Spring and Savior of Humanity), she fought her dragon-lady guidance counselor to the death, navigated mean girl Bethany's bitchy troublemaking, and dealt with the betrayal of her backstabbing ex, Kai (sexy Prince of Darkness). You'd think a girl could catch a break.
Yeah, right.
With Zeus stepping things up, it's vital that Sophie retrieve Persephone's memories and discover the location of the ritual to stop Zeus and Hades. So when Aphrodite strikes a deal that can unlock Sophie's pre-mortal past, what choice does the teen goddess have but to accept?
The mission: stop media mogul Hermes from turning Bethany into a global mega-celebrity. The catch? Aphrodite partners Sophie and Kai to work together … and treat this suicide mission as a date. Which could work out for Sophie's plan to force Kai to admit his feelings for her–if she doesn't kill him first.
Add to that the fact that BFF Theo's love life and other BFF Hannah's actual life are in Sophie's hands, and suddenly being a teenager—even a godlike one—seems a bit like … well, hell. Whatever happened to dinner and a movie?
The romantic comedy/Greek mythology fireworks continue to fly in My Date From Hell. Breaking up is easy; dating is deadly.
I'm really excited for this one! Things between Kai and Sophie really heat up, Gods behave badly all over the place and nothing is what it seems.
Stay tuned …
Subscribe for bonus content and insider scoops!
Tellulah's Old Darlings