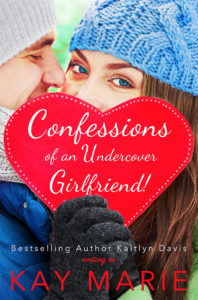 I loved Kay Marie's Confessions of an Virgin Sex Columnist. It was everything I want from a romcom. So when she asked me to spread the word about the second book in her series, Confessions of an Undercover Girlfriend, I agreed. And we've got a giveaway going on at the bottom so make sure and enter.
Synopsis:
From bestselling author Kaitlyn Davis, writing as Kay Marie, comes the second book in the Confessions series, a romantic comedy being hailed as "the new Bridget Jones!" (Broc's Bookcase). 
So, I'm no longer a virgin sex columnist—thank you, Ollie—but if I thought that was going to make my life easier, boy was I wrong! John is back in town determined to win my forgiveness. Blythe is more ready than ever to take me down. Bridget is totally onto the new twinkle in my eye. And, well, Ollie is just as distractingly delicious as usual.
So, naturally, I have a few more confessions to make.
Confession #1: I came up with what I thought would be the perfect plan to keep my relationship with Ollie a secret—pretend to get back together with John!
Confession #2: It backfired. A lot.
This is a sweet romance, perfect for fans of Sophie Kinsella, Meg Cabot, and Emily Giffin!
Buy Links:
Amazon – This is a KDP select novel. $3.99 to buy or free on Kindle Unlimited!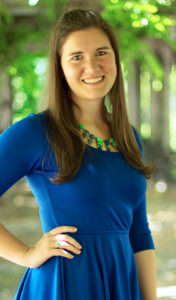 Bestselling author Kaitlyn Davis writes young adult fantasy novels under the name Kaitlyn Davis and contemporary romance novels under the name Kay Marie.
Always blessed with an overactive imagination, Kaitlyn has been writing ever since she picked up her first crayon and is overjoyed to share her work with the world. When she's not daydreaming, typing stories, or getting lost in fictional worlds, Kaitlyn can be found indulging in some puppy videos, watching a little too much television, or spending time with her family. If you have any questions for her–about her books, about scheduling an event, or just in general–you may contact her at: KaitlynDavisBooks@gmail.com
To stay up-to-date with all of Kaitlyn's new releases, sign up for her new release newsletter here: TinyLetter.com/KaitlynDavisBooks
Author Links:
Website: http://www.kaitlyndavisbooks.com/
Facebook: https://www.facebook.com/KaitlynDavisBooks
Twitter: https://twitter.com/DavisKaitlyn
Goodreads: https://www.goodreads.com/Kay_Marie
Let's give you a teaser, shall we?
I don't remember him coming in, I really don't. But that doesn't mean I'm going to complain when I wake up wrapped in Ollie's arms, pressed against his chest in a warm embrace.
I stay there, hitting my snooze button, just enjoying this simple moment that I never in my wildest dreams ever thought would actually happen. Okay…maybe in my wildest dreams. Because, well, yeah I've certainly imagined this moment a million times. I've imagined it so much that I already have the scene perfected, easily recalled in my mind. Oliver McDonough, my impossible crush, lulls me from a deep slumber by whispering morning, beautiful into my ear before pulling me against his chest where I melt into his passionate kiss, jolting alive in a single second as his touch rouses me more efficiently than any cup of coffee ever could.
At least, that's how I always pictured it.
But, this is real life.
So when I finally find the strength to shift in his arms, turning to face him, I don't find Oliver McDonough, suave seducer of my dreams. I find Ollie, passed out with drool dribbling down his cheek as a teeny-tiny snore escapes his lips.
But you know what?
It's better. A million times better.
Because it's real.
Grinning like an idiot, I lift my palm to his cheek, running my thumb over his skin, drinking him in as my fingers make their way to his thick, dark hair.
"Mhmm," he murmurs.
"Morning," I whisper.
He smiles lazily, still keeping his eyes closed. "It's too early to be morning."
"Not for those of us who have to get to their office by 8:45 a.m."
"I hate corporate America," he grumbles, pulling me closer and tightening his hold. "Screw the man. I don't want you to leave."
"You know, when you said you'd show me the advantages of having you as a roommate and a boyfriend, imprisonment wasn't really what I had in mind," I tease.
Ollie finally opens his eyes, grinning. "But you were so adorable last night in your drunken stupor, I just couldn't wake you—literally. I tried. Twice."
I shove him playfully. "Blame your sister for that."
"She always has been your bad influence."
"So how'd I end up with the secret affair?"
Ollie leans in, kissing my neck. "Because I'm an even worse influence."
And now… *drumroll* the giveaway:
a Rafflecopter giveaway

Subscribe for bonus content and insider scoops!
Tellulah's Old Darlings