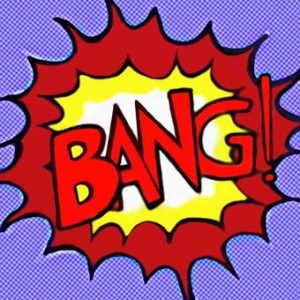 "Remove everything that has no relevance to the story. If you say in the first chapter that there is a rifle hanging on the wall, in the second or third chapter it absolutely must go off. If it's not going to be fired, it shouldn't be hanging there."
– Anton Chekhov
To paraphrase the famous "Chekhov's gun" quote, if you're gonna set up a gun, there better be a big bang.
Let's talk audience expectation, shall we? If I'm watching a movie and the story makes a point of showing me a gun, but said gun never goes off, I'm going to feel cheated. Now substitute ring for gun and KDrama City Hunter, I'm talking to you. (Note* This is not an post dealing with my KDrama obsession problem nor my fascination with all things Lee Min-ho. Though there will be spoilers.)
Okay, so this show made a point of showing a ring that the hero was supposed to give to his love interest. Like several times. I watched to the end of the series, excited to see the big HEA, since this was a bit of a darker show. Lots of action, lots of daddy issues and betrayals to be resolved. Finally, I got to the series finale.
I hunkered in to watch. Various major action plots resolved? Check! Some minor elements resolved? Check! Big HEA? Tumbleweeds …. After twenty episodes, you know how the romance got wrapped up?
*SPOILER*
The female love interest shows up at a conservatory – one of those glass domes containing various flora, with a rolling suitcase. She looks around. But where is our hero? Oh! There he is. She smiles.
AND THAT WAS IT!
ARE YOU FREAKING KIDDING ME?
To say that I howled in outrage would be an understatement. I re-watched the last 10 minutes then scoured the net to see if somehow I'd missed the scene that was supposed to be there. You know, the one where he gives her the damn ring? Or declares his love or kisses her or does something resembling anything? Nope. They simply hadn't included it. Hey writers, you don't get to do that to your audience. It's not like the romance was a minor plot point. It was pretty much secondary to the hero's revenge quest.
Certain genres have certain tropes. Certain expectations. And yes, sometimes they feel tired or clichéd. But mostly they are there for a reason. So if you set up that gun, then give a girl the bang.
Subscribe for bonus content and insider scoops!
Twittering away...
Husband just remembered that once, when asked what she wanted to be when she grew up, my kid replied, "I wanna be on stilts!" #soproud
- Friday Feb 23 - 9:25pm
https://t.co/1UHQhm57rN Cautiously optimistic about the premise
- Wednesday Feb 21 - 9:20pm
SPOILER ALERT! A fabulous video that you absolutely SHOULD NOT WATCH if you have not yet seen The Good Place s1 fin… https://t.co/Jqf3UnxHg3
- Tuesday Feb 20 - 4:15am
Lose yourself in a funny, sexy urban fantasy romance! The Unlikeable Demon Hunter: Crave releases Feb 20 and to cel… https://t.co/WPcUSnVRRu
- Sunday Feb 18 - 4:56pm
Bet you didn't know you could pair tap dancing and Star Wars! https://t.co/GS2qzvH7nJ
- Friday Feb 16 - 8:45pm
Tellulah's Old Darlings