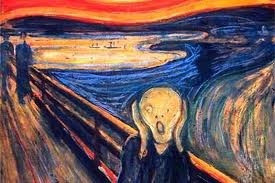 Is it hypocritical of me to be 100% about inclusivity and yet hate people so much? Yes? Well, I don't care. Because my tolerance for, hmmm how to phrase this nicely, oh yes, stupidity is all used up. It's my fault really. I keep reading news articles about homophobes, bigots, uptight puritans and plain jerkfaces, banning books according to their dangerous sanitizing agendas.
My rage started about fifteen years ago, on a whole other issue, when I caught sight of a Bugs Bunny cartoon on TV that had had all its violence edited out. You know, to protect the children. New running time? About twenty seconds. Anyone who knows me, knows you don't mess with classic Warner Brothers. The level of storytelling (their blatantly racist works aside) reaches comic genius. These cartoons had by this point been around for decades. And I hadn't noticed any dire incidents involving anvils or pronoun trouble among youth.
The flames of fury stoked higher when I was with my daughter at our local library and found politically correct versions of fairy tales where the little pigs and wolf used their words for a win-win outcome or some such bullshit because the real stories were too dark. Here's the thing. I remember chatting with my beloved children's librarian who declared the need for the original versions because they featured justice. And that consequences of actions were an important concept for young kids to learn. Can I get an amen?
Most recently I went into brain rupturingness reading about a) the "debate" over Fun Home being dumped off the required reading list at the College of Charleston (because you know, it'll turn you into a lesbian if you read it) and b) the furor over Eleanor & Park (because teens swear *le gasp* and are sexual!) Forget that its one of the all-time sweetest LOVE stories that I've ever read.
Here's my question to the parents on these bandwagons: How feeble minded do you believe your children to be, that you're scared that some story has such massive powers of persuasion that they can turn your (potentially grown) child to the "dark side?" I mean, have you not done your job? Taught them right from wrong? Or is it just that you're scared that your "right" maybe isn't right for them? That you can't separate that they are their own person with the right to make appropriate lifestyle choices for themselves.
I'm not getting into anybody's right to be totally wrong and hateful. You want to live your life that way, well, I'm sure there's a special place in hell for you. But leave your kids and most definitely mine alone. Keep your agendas out of our books.
Books aren't turning anyone anything. Maybe they're giving them the courage and strength to feel like they can be honest about who they are and want to be. If so, bravo!  And if books could turn readers into such mindless suggestable minions, then I'd be writing my new series about a benevolent overlord called Tellulah Darling whose teen army devotes themselves to her every material comfort.
When I was a teen, there was no such thing as YA. There were kids books, there was Judy Blume's Forever and then basically you read whatever you wanted to. Wanna know what I was reading at 14? The Wolf and the Dove, which if memory serves is a bunch of rape/sexual assault disguised as romance. I can tell you that as a parent and a human being, I would have been delighted if someone had pulled that crap out of my kids' hands and given them a David Levithan or Rainbow Rowell novel. Something with positive representations of love.
And so freaking what if that love involves to guys or two girls or an interracial couple or whatever else gets your panties in a knot? I'm sorry, but in this day and age, where so much horrible crap is still going on against so many people, I cheer for every single story depicting positive love stories. Because in the end, we need more love. Not less.
Subscribe for bonus content and insider scoops!
Twittering away...
https://t.co/1UHQhm57rN Cautiously optimistic about the premise
- Wednesday Feb 21 - 9:20pm
SPOILER ALERT! A fabulous video that you absolutely SHOULD NOT WATCH if you have not yet seen The Good Place s1 fin… https://t.co/Jqf3UnxHg3
- Tuesday Feb 20 - 4:15am
Lose yourself in a funny, sexy urban fantasy romance! The Unlikeable Demon Hunter: Crave releases Feb 20 and to cel… https://t.co/WPcUSnVRRu
- Sunday Feb 18 - 4:56pm
Bet you didn't know you could pair tap dancing and Star Wars! https://t.co/GS2qzvH7nJ
- Friday Feb 16 - 8:45pm
Better late than never! Discovered the Haim Time podcast on Beats One. So good!
- Friday Feb 16 - 6:45pm
Tellulah's Old Darlings