Welcome to Book Blog Love November! All this month, I'm featuring book blogs that I love and the fabulous female(s) behind them. (Curl Up with a Good Book Sunday and my regular posts resume in December.) Each day in November, I'll spotlight a different blog whose content ranges from reviews to author interviews and events to book tours. All the bloggers graciously agreed to answer 7 questions about themselves. YA features predominantly in some, and in others is merely part of what they cover. So stick around and get to know these great chicks and the blogs they pour their hearts into. I bet you'll see some old favs and make some new ones.
Presenting: Bianca and Once Upon a Chapter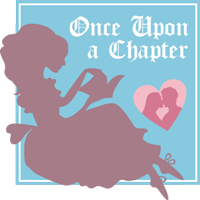 1)   Describe your blog and tell us why you chose that name for it?
 I actually just started a new blogging adventure very recently. After a couple years of Blogging with Alexa over at Pages of Forbidden Love we decided on something new. Stephanie over at Once Upon Chapter has graciously welcomed us to her Blog. Once Upon a Chapter is Stephanie's baby and Pages of Forbidden Love was Alexa's creation so I did not pick any names. Thank goodness, I am pretty terrible at coming up with clever titles.
I feel like I am not qualified to describe the blog just yet. You will find three lovely ladies talking about one of their passions, books!
Stephanie can tell you more 🙂 "Lisa and I had talked about creating a book blog. I knew that there were other people who book blogged but I had no idea how many there were. Lisa and I wrote down a bunch of things associated with reading. It included things like bookworm, story, pages, words, chapters, and once upon a time. We wanted something unique and different. Lisa put together once upon a story and I asked her how she felt about once upon a chapter. She agreed it was catchy and that's how we got our blog title!
The blog started as a romance review blog but as I branched out in my reading and found a lot of other great book bloggers I started adding more and more genres. Now OUaC reviews all sorts of genres. A little something for everyone.
2)   What are 3 things about you that would surprise people?
Hmm…this is a hard one! I'm not a surprising person. Three second ago my cousin just called me boring. All said with a smile so she might have been messing with me but you never know. haha
1. I love brussle sprouts.
2. I like to end sentences in song. I don't mean sing the sentence but typically certain words cause me to start singing various songs or quote movies.
3. The first time people drive in my car and listen to my music, they are typically surprised by the volume (I turn it up all the way) and the various genres.
3)   Why do you love YA? And conversely is there anything that drives you nuts about it?
I love the growth that happens in YA books. Okay, so I love to see character growth in any book I read but I love the journey of young characters finding themselves. I love seeing them grow into better people growing into young adults who have a better understanding of who they are and what they want. Reading about them overcoming different obstacle normal to adolescence as well as those that are not the norm but just as relevant always makes me happy.
What drives me nuts? I think that really depends on the book. I don't know if I could really say that there is one thing that drives me crazy about the genre as a whole. I think some things that drive me nuts in one book can be done really well in another. It depends on how the author portrays them. What I really don't care for is the stigma of reading YA or any other book that you enjoy for that matter. I feel like some people think YA is only for well Young Adults. We all know that isn't true though 🙂
4)   What book would you fight a zombie horde to save?
First I have to ask am I Mila Jovovich in The Resident Evil movies badass or regular ol' Bianca? If it's just normal me I would run far away! Maybe a book or two would make them less brainless and happier. If I somehow became a kickass heroine I would save them all! Nothing would stop me! If I must pick one…okay two 🙂 It would have to be my current reads, Attachments by Rainbow Rowell and Dirty Rowdy Thing by Christina Lauren, since I have to finish them.
5)   If you had a theme song, what would it be and why?
 No theme songs just songs I listen to on repeat for a week 🙂 Currently listening to "Stolen Dance" by Milky Chance, "Take Me to Church" by Hozier and as much as I hate to admit this "Blank Space" by Taylor Swift. I am not a Taylor Swift fan but I heard this on the radio and was like "Hey, I kind of like this song. Wonder who sings it?" then found out who it was. I'm a little obsessed with it anyway.
6)    What fictional character would you want to date and who would you want for a best friend?
Just one? Why must you ask this? Haha  Well I am obsessed with the Sinners Series by Olivia Cunning and finished rereading them just recently. I would totally date Brian Sinclair and would want to be best friends with with Erik and Rebekah.
7)   What has been the biggest surprise/delight of your blogging career?
The best part about blogging has been being able to share my thoughts and read the thoughts of others about different books. I have a few people that I can share my love of books with and everyone close to me knows about it but doesn't always get it so finding a place to go total fangirl with others that are just excited about it as I am have been the best thing about my blogging experience. I also get to hear about so many more books. I probably wouldn't have come across them if i hadn't started my blogging journey. Being able to interact with awesome authors is definitely a highlight. Thank you for doing your thing and writing books I can fall in love with!
Thanks so much for being with us today, Bianca. Check out Once Upon a Chapter 
here
!
xo
Tellulah
Subscribe for bonus content and insider scoops!
Twittering away...
Husband just remembered that once, when asked what she wanted to be when she grew up, my kid replied, "I wanna be on stilts!" #soproud
- Friday Feb 23 - 9:25pm
https://t.co/1UHQhm57rN Cautiously optimistic about the premise
- Wednesday Feb 21 - 9:20pm
SPOILER ALERT! A fabulous video that you absolutely SHOULD NOT WATCH if you have not yet seen The Good Place s1 fin… https://t.co/Jqf3UnxHg3
- Tuesday Feb 20 - 4:15am
Lose yourself in a funny, sexy urban fantasy romance! The Unlikeable Demon Hunter: Crave releases Feb 20 and to cel… https://t.co/WPcUSnVRRu
- Sunday Feb 18 - 4:56pm
Bet you didn't know you could pair tap dancing and Star Wars! https://t.co/GS2qzvH7nJ
- Friday Feb 16 - 8:45pm
Tellulah's Old Darlings