Welcome to Book Blog Love November! All this month, I'm featuring book blogs that I love and the fabulous female(s) behind them. (Curl Up with a Good Book Sunday and my regular posts resume in December.) Each day in November, I'll spotlight a different blog whose content ranges from reviews to author interviews and events to book tours. All the bloggers graciously agreed to answer 7 questions about themselves. YA features predominantly in some, and in others is merely part of what they cover. So stick around and get to know these great chicks and the blogs they pour their hearts into. I bet you'll see some old favs and make some new ones.
Presenting: Kristen and Seeing Night Reviews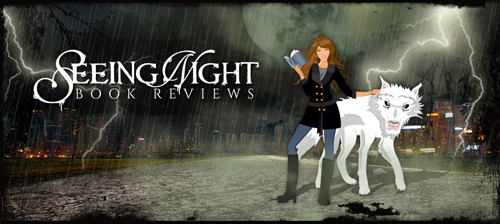 1)   Describe your blog and tell us why you chose that name for it?
Hello! My name is Kristen and I own and run my blog Seeing Night Reviews. My blog is dedicated to my book reviews, promoting and discussing books, author interviews, and blog tours.
I chose my name Seeing Night Reviews a little over four and a half years ago. It was at night, my favorite time of day and I have a bad habit of reading in the dark with my book light. I thought combining my favorite time of day and reading in the dark might be clever, thus I came up with Seeing Night Reviews.
2)   What are 3 things about you that would surprise people?
1- I'm a huge comic book nerd! Since I was a baby I grew up around comic books and even go to Comic Con every year with my dad. Together my dad and I have around 6-7 thousand comic books that we have collected and still love to read.
2- I'm obsessed with Korean dramas. I love them! What's so awesome about Korean drama is that the series only last about 16 episode so I actually get a conclusion sooner rather than 6 years down the road. Plus they are so much fun, as well as make me cry, laugh and fall in love. I would recommend Boys Over Flower if you want to give Kdrama a try. A bonus is my husband is also Korean, so I guess it was always meant to be J.
3- My favorite days are rainy days. Living in sunny California we don't get much run here. But when we do that's when Im most out and about. My wedding day was the best day ever and officially the last big storm that hit California, so awesome!
4- I'm super afraid of clowns and dolls. I think its happened when I was little and I watched the movie IT and Puppet Master….ehhhh lets just say I don't ever do to the circus nor do I own any dolls.
3)   Why do you love YA? And conversely is there anything that drives you nuts about it?
I love YA because I always feel like I can connect and or relate to the characters, I remember when I was in high school and dreamed, cried, and loved like them. Or if it's a paranormal YA I wish I could have been like them lol! The only thing that really drive me nuts about YA are love-triangles, I'm a romance junkie and always get frustrated if someone stands in the way of true love.
4)   What book would you fight a zombie horde to save?
I would fight a zombie horde for two books actually The Big Sleep by Raymond Chandler and The China Garden by Liz Berry. One is more mystery with a splash of romance, while The China Garden was my favorite YA Fantasy romance I read a long, long time ago.
5)   If you had a theme song, what would it be and why?
Hmmm My theme song would probably sound a lot like the Star Wars theme song, a little bit of the dark side mixed with some han solo. My personality is nerdy with a bit of kick butt, so I guess it would work.
6)    What fictional character would you want to date and who would you want for a best friend?
Hmmm one fictional character I would want to date would be Daemon from the Lux series by Jennifer Armentrout. My best friend would be Mercy Thompson from Patricia Briggs Mercy Thompson series.
7)   What has been the biggest surprise/delight of your blogging career?
Biggest surprise has been all the fantastic authors who I've connected with and met over the years. I have been introduced to so many talented people that I would of never of known about if I hadn't been apart of the blogging community. Its been a great experience and seriously love it.
Thanks so much for being with us today, Kristen. Check out Seeing Night Reviews 
here
!
xo
Tellulah
Subscribe for bonus content and insider scoops!
Tellulah's Old Darlings