Welcome to Book Blog Love November! All this month, I'm featuring book blogs that I love and the fabulous female(s) behind them. (Curl Up with a Good Book Sunday and my regular posts resume in December.) Each day in November, I'll spotlight a different blog whose content ranges from reviews to author interviews and events to book tours. All the bloggers graciously agreed to answer 7 questions about themselves. YA features predominantly in some, and in others is merely part of what they cover. So stick around and get to know these great chicks and the blogs they pour their hearts into. I bet you'll see some old favs and make some new ones.
Presenting: Dianne and Oops! I Read A Book Again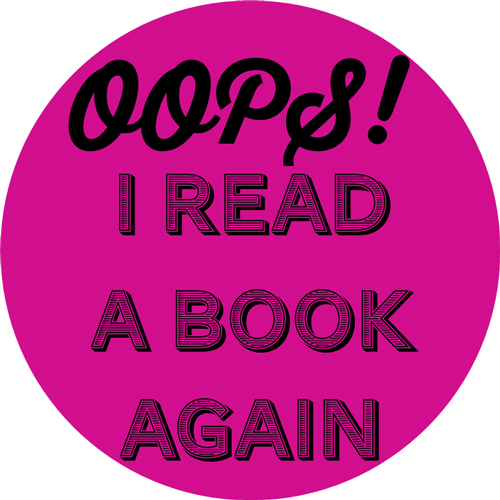 1)   Describe your blog and tell us why you chose that name for it?
Oops! I Read A Book Again is a book blog centered on young adult and new adult novels. As for the name, back in October 2012, I was already blogging about books on my personal blog. However, I wanted to make a separate book blog. I had an exam the next day but all I did the entire day was read this underrated gem of a book, 
After Hello by Lisa Mangum
. Then I realized, oh, I just read another book! Hence, the name of the blog.
To quote the first post on my blog:
"And why is that the title and my URL? Because I usually find myself tempted to read books when there's an exam, a paper or any other school requirement. And I usually give in. Hence the URL, oops, I read a book again. Haha! Good thing it wasn't taken yet because I think I won't push through with this blog if I wasn't able to get this URL. "
2)   What are 3 things about you that would surprise people?
I can't snap. (Woe is me!)
I've only read one John Green book. (Will Grayson, Will Grayson and Let It Snow not counted.)
I haven't read any of Rainbow Rowell's books. *hides*
3)   Why do you love YA? And conversely is there anything that drives you nuts about it?
I honestly haven't thought about why I love YA until this question. I used to read literary fiction back in high school until early college. But ever since my junior year in college, I started to gobble up YA like it's cake. I don't know what spurred the shift and why I never looked back. I still read literary fiction and psychological suspense thrillers but I guess 90% of what I read is YA. But maybe it's because I will be young at heart forever and I will never get tired of reading about teens. Or maybe I love how unabashedly unapologetic teens are and how they live in the now. When you're a teen, all you know is what you want. YA is just so pure in that way. I mean, adults have so many hang-ups and crisis that are only of their own making. Or maybe I just like crushing on book boyfriends and YA is the best at that. Haha!
4)   What book would you fight a zombie horde to save?
Oh no. Making me choose is such torture! But I will definitely fight a zombie horde for my favorite book, The Little Prince by Antoine de Saint-Exupéry. I read it at least once a year, usually when I'm down. Every time I read it, I interpret it differently. Every time I read it, I cry. It just never gets old for me.
5)   If you had a theme song, what would it be and why?
Oh, wow. Yet another impossible question! I'll just go with Walk the Moon's I Can Lift A Car. It was the song I listened to over and over again to finish my thesis manuscript back then. It starts out a bit sad but then it's actually uplifting and full of hope. That you can do whatever you want to do. That you can lift a car up all by yourself. Sure, it's a romantic song but I just try to apply it to everything. Hee.
6)    What fictional character would you want to date and who would you want for a best friend?
I am notorious with my book boyfriends, I have tons. But if I will choose a fictional character to date (why do I have to choose one WHY), I would love to date Jack Hunter from the amazing 
Lovely Vicious
 series by Sara Wolf. He just tops my never-ending list of book boyfriends. I want to pitch him to all of you so badly but words will never be enough. I wouldn't be able to give him justice. But maybe, what I love most about Jack is that he's not perfect like most book boyfriends. He's very much flawed, which makes him more real for me. Then he just slays me. Read the books and you'll understand me.
For a best friend, I'd definitely go with Reagan from Open Road Summer by Emery Lord. I just adore Reagan and Lilah's friendship in this book and I think Reagan and I are a perfect fit. I just love this book so much and all of its characters I can probably make do with having them all as best friends.
7)   What has been the biggest surprise/delight of your blogging career?
Talking to authors. Before I became a blogger, I viewed authors as celebrities that you can't possibly reach and talk to. But wow, that is completely not the case. The joy I get from talking to authors, especially authors of books I love, just fills me up. It's something I never imagined I would be able to do but now, here I am, being a featured blogger at Tellulah's blog! Don't get me started when authors remember you. Just, wow.
Thanks so much for being with us today, Dianne. Check out Oops! I Read A Book Again 
here
!
xo
Tellulah
Subscribe for bonus content and insider scoops!
Twittering away...
https://t.co/1UHQhm57rN Cautiously optimistic about the premise
- Wednesday Feb 21 - 9:20pm
SPOILER ALERT! A fabulous video that you absolutely SHOULD NOT WATCH if you have not yet seen The Good Place s1 fin… https://t.co/Jqf3UnxHg3
- Tuesday Feb 20 - 4:15am
Lose yourself in a funny, sexy urban fantasy romance! The Unlikeable Demon Hunter: Crave releases Feb 20 and to cel… https://t.co/WPcUSnVRRu
- Sunday Feb 18 - 4:56pm
Bet you didn't know you could pair tap dancing and Star Wars! https://t.co/GS2qzvH7nJ
- Friday Feb 16 - 8:45pm
Better late than never! Discovered the Haim Time podcast on Beats One. So good!
- Friday Feb 16 - 6:45pm
Tellulah's Old Darlings