Welcome to Book Blog Love November! All this month, I'm featuring book blogs that I love and the fabulous female(s) behind them. (Curl Up with a Good Book Sunday and my regular posts resume in December.) Each day in November, I'll spotlight a different blog whose content ranges from reviews to author interviews and events to book tours. All the bloggers graciously agreed to answer 7 questions about themselves. YA features predominantly in some, and in others is merely part of what they cover. So stick around and get to know these great chicks and the blogs they pour their hearts into. I bet you'll see some old favs and make some new ones.
Presenting: Jess and Such a Novel Idea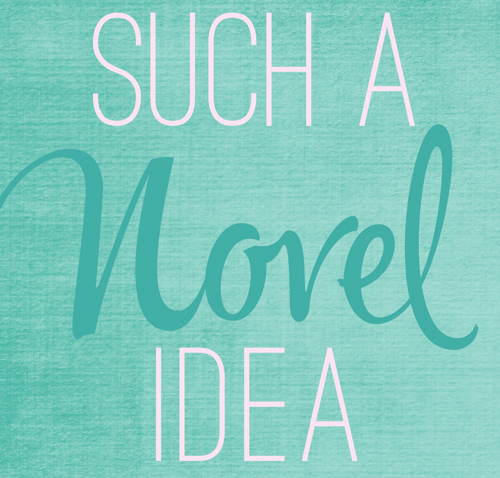 1) Describe your blog and tell us why you chose that name for it?
Such A Novel Idea started over on Tumblr in early 2011.  I wanted a place where I could jot down thoughts when I started seriously writing.  However, as Tumblr is a fangirl's Bermuda Triangle, I got sucked in on the fun. In 2012, I lost my job and had some major health issues with my son that kept me frazzled. Some awesome friends pulled together and got me a B&N gift card. After buying 12-15 books all at once, I realized how much I wanted to share my thoughts about them. It was my way to give back to my friends who had done something awesome for me (not to mention, I was their go-to girl for what to read). Thus, Such A Novel Idea was born. I loved the name I had chosen on Tumblr and thought I'd give it a go. Honestly, I had no IDEA where this road would lead me.  Now I'm not only obsessed with books, I'm obsessed with promoting books and making other people obsessed with them.  It really is the perfect job for me.
2) What are 3 things about you that would surprise people?
Hmm, this is a really difficult question, because I'm pretty much an open book about my life and who I am. I love puns, words, and most things that are considered extremely nerdy. BUT, here are three things I haven't ever shared on the blog:
I originally went to college to be a computer programmer and a dance teacher. After a realization that I was going to become even more of an introvert if I kept coding and a torn ACL, both of these dreams took a back seat to something else – writing (specifically, journalism).
I have a heart condition – my heart rate is twice the normal person's at rest.
I met my husband online (on Xanga). We were both in-real-life friends with a couple from college (my husband the guy and I the girl) and through them we connected online. By the time he moved to my town, we had been spending every night talking, so it didn't take long for us to fall in love. I still think it is the nerdiest thing to say I met my spouse on Xanga though.
3) Why do you love YA? And conversely is there anything that drives you nuts about it?
When I was 10, I was reading The Shining and Jurassic Park. I was also reading The Boxcar Children and The Babysitter's Club. I have always read outside of the box, because the most important thing to me is that you enjoy what you are reading. When I was a teen, young adult didn't really even exist. There were books for teens under the children's label, but it isn't anything like it is today. And so, when I found books like The Hunger Games and Matched and Stay With Me in 2011, I realized that I enjoyed these books not because they were for teens, but because of the way they made me feel. It was full of promise and angst and trying to figure out who you are. Adult books, in some respects, are beyond these things. But I've gone through so many changes in my adult life that these are things I find myself relating to. When I found out my son had autism and had to consider how our lives had forever changed, I had the Twilight series to dive into. When I was promoted to an administrator in the college I worked for, I was trying to juggle a staff and pressures that go along with being boss, two tiny children, and grad school. It was then that the world of dystopia came to me – books like The Hunger Games, Matched, Unwind, and Divergent were opening up worlds I never fathomed to exist in my mind. When I lost another job in 2012 and lost some of my purpose in life, it was books like Throne of Glass, Incarnate, and The Girl of Fire and Thorns that brought me back. Sure, they might have been written about teens, but to me the books were a window into my soul. A reminder that it is okay to be in constant flux, to be moving and changing and still figuring out who you are.
Conversely, it is not all sunshine and roses with this YA genre. Of course the book market has exploded with popularity, thus bringing oversaturation of tropes and themes. I hate that after awhile, everything starts to read similar and formulaic. It takes awhile for a great book to jump out and grab you. But it is well worth the wait when one does.
4) What book would you fight a zombie horde to save?
I actually have thought about this, many times. I think it is unfair to ask a book lover to pick just one, but in all actuality if I had to, I'd pick the final Harry Potter book, Harry Potter and the Deathly Hallows. This book represents so many things: my childhood, my love of reading, the beginning of my obsession with fictional worlds and characters, and a defining part of my life. While it isn't like the other books, it has so many life lessons within it – I don't think I could ever grow tired of the story, and thus, I would definitely slay some undead for it.
5) If you had a theme song, what would it be and why?
Oi, this was one of the most difficult questions! I don't know if I would consider it a theme song, but Tegan and Sara's Nineteen is one of my favorite songs. It kind of emotes that angsty and nostalgic feeling that you get in a YA book.
In addition, I'd say Imagine by John Lennon. It's message is a beautiful one, and is something that spoke to me so much that I have a tattoo dedicated to it.
6) What fictional character would you want to date and whom would you want for a best friend?
Well for sure I'd want to date Will Herondale. Or marry him, you know. He is dashing, charming, hilarious, witty, and always full of surprises. He loves fiercely, is loyal to a fault, and loves books almost as much as I do. How could you not fall head over heels for Will?
As for best friend, I would have to say Hermione Granger. She is brilliant, amazing, and honestly, I think if I could be any person she would be my pick. However, she doesn't have many girl friends, so I think we would get along splendidly. We both love learning, standing up for what is right, and learning. When in doubt, go to the library!
7) What has been the biggest surprise/delight of your blogging career?
SO much! First of all, I never really expected it to stick. It became something I loved doing, something I wanted to spend all my time on. I mean, they always ask you if you won the lottery and money was no longer an issue, what would you want to spend your time on? My answer was always travel the world and write about it. But, through this process I have learned that I would amend that to 'and blog about it.' This is a passion, and I regret not starting sooner. I also never expected to gain the relationships I have. The opportunities to meet other bloggers who love books as much as I do and fangirl over authors like I do has been amazing. Getting to interact with authors has been something I never really contemplated. But most of all, because of the blog, I eventually found my best friend Loren, who is now my co-blogger. She and an amazing group of friends I never expected to find have changed my life. It is amazing to be around people who get you – especially someone like me who is quirky and a complete nerd. So to find friends who not only embrace that, but also cherish it has been life altering.
Thanks so much for being with us today, Jess. Check out Such a Novel Idea 
here
!
xo
Tellulah
Subscribe for bonus content and insider scoops!
Tellulah's Old Darlings