Welcome to Book Blog Love November! All this month, I'm featuring book blogs that I love and the fabulous female(s) behind them. (Curl Up with a Good Book Sunday and my regular posts resume in December.) Each day in November, I'll spotlight a different blog whose content ranges from reviews to author interviews and events to book tours. All the bloggers graciously agreed to answer 7 questions about themselves. YA features predominantly in some, and in others is merely part of what they cover. So stick around and get to know these great chicks and the blogs they pour their hearts into. I bet you'll see some old favs and make some new ones.
Presenting: Debbie and I Heart YA Books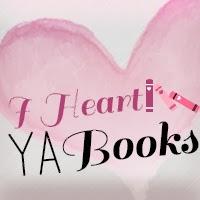 1)   Describe your blog and tell us why you chose that name for it?
Lets see… Mine is hosted by Blogger, and it's a book review and promotion blog. I do cover reveals, new release promos, and book reviews. My daughter actually named my blog for me. It was during the time when I was really into reading Young Adult. But, I think I should rename it to 'I Heart YA & NA Books, because I have falling in love with New Adult
2)   What are 3 things about you that would surprise people?
LOL. That's a hard one. I guess that I'm a wife, mother, and a grandmother.
3)   Why do you love YA? And conversely is there anything that drives you nuts about it?
I love YA for the romance. It's that first love of your life. The one you never forget. The one you hope is forever. I love reading about characters who are falling in love for the first time. I can't think of anything off hand that drives me crazy about YA.
4)   What book would you fight a zombie horde to save?
OMG, there's no way I could name all the books I have fallen in love with. So I would have to fight the zombies over all of them!
5)   If you had a theme song, what would it be and why?
Now this is a hard one to answer, because I really don't listen to music. I love reading, so I'm going to say Bridge Over Troubled Water by Simon & Garfunkel. I loved this song so much when I was a teenager, because my boyfriend would sing it to me and call me his silver girl. Aww, the swoons of first love LOL.
6)    What fictional character would you want to date and who would you want for a best friend?
I have to say, the first book series I really fell in love with was Vampire Academy by Richelle Mead. I would love to date Dimitri and would want my best friend to be Rose, even though we both would definitely want Dimitri. LOL
7)   What has been the biggest surprise/delight of your blogging career?
My biggest surprise was my daughter becoming an author, finally publishing one of her novels. I love sharing this reading community with my beautiful daughter. And the next biggest surprise was having a few of my reviews published in some of the big five houses' novels.
Thanks so much for being with us today Debbie. Check out I Heart YA Books 
here
!
xo
Tellulah
Subscribe for bonus content and insider scoops!
Twittering away...
Husband just remembered that once, when asked what she wanted to be when she grew up, my kid replied, "I wanna be on stilts!" #soproud
- Friday Feb 23 - 9:25pm
https://t.co/1UHQhm57rN Cautiously optimistic about the premise
- Wednesday Feb 21 - 9:20pm
SPOILER ALERT! A fabulous video that you absolutely SHOULD NOT WATCH if you have not yet seen The Good Place s1 fin… https://t.co/Jqf3UnxHg3
- Tuesday Feb 20 - 4:15am
Lose yourself in a funny, sexy urban fantasy romance! The Unlikeable Demon Hunter: Crave releases Feb 20 and to cel… https://t.co/WPcUSnVRRu
- Sunday Feb 18 - 4:56pm
Bet you didn't know you could pair tap dancing and Star Wars! https://t.co/GS2qzvH7nJ
- Friday Feb 16 - 8:45pm
Tellulah's Old Darlings