Welcome to Book Blog Love November! All this month, I'm featuring book blogs that I love and the fabulous female(s) behind them. (Curl Up with a Good Book Sunday and my regular posts resume in December.) Each day in November, I'll spotlight a different blog whose content ranges from reviews to author interviews and events to book tours. All the bloggers graciously agreed to answer 7 questions about themselves. YA features predominantly in some, and in others is merely part of what they cover. So stick around and get to know these great chicks and the blogs they pour their hearts into. I bet you'll see some old favs and make some new ones.
Presenting: Lisa and Girls with Books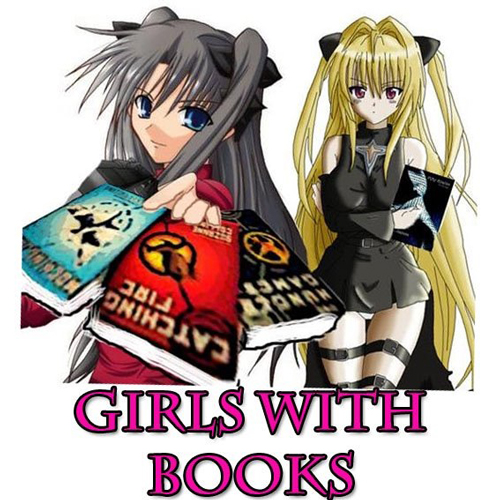 1)   Describe your blog and tell us why you chose that name for it?
Describing our blog is difficult because I feel we do a variety of things.  I guess I would say its eclectic. Naming our blog was a lot of fun. I had envisioned Charlie's Angels (I know I'm dating myself here lol) with books rather than weapons, hence our blog picture. So our name kind of came from that.
2)   What are 3 things about you that would surprise people?
Hmm, this is hard. I donated a kidney to my brother five years ago, I'm a social worker by day and I camped out in L.A. for the premiere of Breaking Dawn Part II.
3)   Why do you love YA? And conversely is there anything that drives you nuts about it?
Honestly, when I choose a book to read I don't focus on the age of the characters, I focus on the plot and the writing. There are many talented young adult authors out there. Their writing pulls you in and keeps you entertained until the last page. Their writing brings multiple emotions to the surface. It is because of these reasons I love YA.
The one thing that does drive me nuts about some YA novels is love triangles.
4)   What book would you fight a zombie horde to save?
OMG this is tough! There are way too many to list. I think I'd fight the horde for any book. Lol!
5)   If you had a theme song, what would it be and why?
I love reading by Fabulous Lemon Drops
(https://m.youtube.com/watch?v=0ouL4ZMEdIs)
6)    What fictional character would you want to date and who would you want for a best friend?
I would choose Four aka Tobias but this will probably change tomorrow. I would choose Jace from TMI for my best friend.
7)   What has been the biggest surprise/delight of your blogging career?
I would say it is being able to connect with other people who are just as obsessed about reading as I am. Another awesome surprise was being able to meet so many wonderful authors.
Thanks so much for being with us today, Lisa. Check out Girls with Books
here
!
xo
Tellulah
Subscribe for bonus content and insider scoops!
Tellulah's Old Darlings