Welcome to Book Blog Love November! All this month, I'm featuring book blogs that I love and the fabulous female(s) behind them. (Curl Up with a Good Book Sunday and my regular posts resume in December.) Each day in November, I'll spotlight a different blog whose content ranges from reviews to author interviews and events to book tours. All the bloggers graciously agreed to answer 7 questions about themselves. YA features predominantly in some, and in others is merely part of what they cover. So stick around and get to know these great chicks and the blogs they pour their hearts into. I bet you'll see some old favs and make some new ones.
Presenting: Jennie, Mandy C., Mandy W., Sarah (Posh) and Forever Young Adult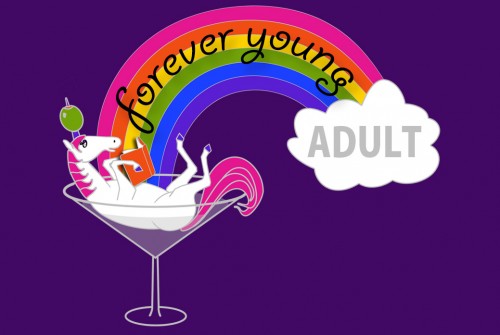 1)   Describe your blog and tell us why you chose that name for it?
POSH: We like to say that Forever Young Adult is a site for YA fans who are a little less "Y" and a bit more "A." It's a community for adults to revel in their young adult obsessions without shame. That description probably makes it obvious why I chose the name "Forever Young Adult," because regardless of age, we'll always love stories of adolescence and all of the ups and downs that come with growing up.
JENNIE: Forever Young Adult is the blog that kept me sane during law school. In an environment full of ultra-competitive (and okay, often pretentious) people, reading Sweet Valley High recaps were just what I needed. I didn't choose the name — I have been contributing for over a year, and was promoted to "full time" early in 2014.
MANDY W: Like Jennie, FYA got me through a dark time (really, really relatively speaking). I had just discovered the joys of audiobooks at a less than mentally stimulating job, and I needed more book recs after I finished The Hunger Games — which is how I found FYA. I submitted my first guest post shortly afterwards, became an intern a few months after that, and was promoted once I 'graduated' in 2013.
MANDY C.: I honestly can't remember how I found about the site, but I think it was through/around the same time I started attending meetings of the Austin chapter of the FYA Book Club, which was in March of 2013. I fell in love with the members of the book club, and the site, almost immediately. They were/are all intelligent, witty and friendly women, and I realized quickly that I wanted more than just a monthly meeting. So, I took a chance and emailed the site, asking if they needed contributors. My first official post went up that May.
2)   What are 3 things about you that would surprise people?
JENNIE:
I wrote my senior undergrad thesis (history) on medieval death & resurrection symbolism, including transi tombs and alchemy. I am a tiny bit obsessed with the macabre.
I met my best friend (and several other very close friends) through an L.J. Smith online fan club that I ran in the late 90s.
My parents homeschooled me (for educational purposes) from fourth grade until I graduated early from high school — so my high school experience was much different from the ones I read about in YA books! It's not for everyone, but it was great for this nerdy introvert.
MANDY W: WHOA, you being homeschooled does surprise me — I didn't know that! Also a cute coincidence because Jenny B., one of the original FYAers, was also homeschooled.
JENNIE: I like this — an FYA Jenny/ie tradition!
MANDY W: Well, I am not a Jenny/ie, so I obviously wasn't homeschooled. Here are my three surprising facts!
 I love old movies — like, Old Hollywood Glamour old. Mostly the happy crowd-pleasers, especially the ones starring Audrey Hepburn or Fred Astaire. (Or Gene Kelly. Or Frank Sinatra. Or Marilyn Monroe. I could probably go all day.) But Teen Me also loved James Dean and his broodiness something fierce.
 I was top of my Spanish class two years in a row. Granted, being the best at beginner Spanish at a Canadian suburban junior high isn't really that impressive of a feat. Nor have I maintained that skill in the years since, because Canadian suburbia.
 The first blog I tried out for was a basketball blog. I never went past that stage due to a paralyzing fear of reading the response email — which actually asked me to get in touch with them! But by the time I mustered up the courage to open the message, several months had already passed. Whoops.
MANDY C.: I was not homeschooled either, nor am I named Jennie/y, but these facts might be surprising—or, at the very least, semi-interesting:
Since we all seem to be including school-related topics, I'll have to share that I was valedictorian of my high school class—one of six, actually. Our class also only had 68 people in it. (Small town life, what what!)
I've never lived in land-locked state. I was born in California, spent my formative years in Oregon, moved to Connecticut with my parents after graduating from high school, went to the University of Massachusetts–Amherst for college, and then moved to Texas a year after graduation.
I'm married to my high school sweetheart. We dated when I was a senior and he was a junior, but then weren't together during college. We got back together about eight years ago, when he made the grand gesture and moved to Texas (a state he hates, mind you) to try again. Because we're those gross people, we like to say that we've been married for four years, but in love for 14.
JENNIE: The fact that you two are smart cookies doesn't surprise anyone!
3)   Why do you love YA? And conversely is there anything that drives you nuts about it?
JENNIE: I love that female authors have so much of a voice in this genre. The firsts are fun — first kiss, first love, first sex (Stephanie Perkins is wonderful at capturing those feelings), but the diversity can be amazing. I have been educated on more minority experiences than I can count (Adam by Ariel Schrag is especially great for this)
As for things that drive me nuts, there are certain tropes that I'm tired of — books that start and end with the school year, instalove, "popular girl is so tortured," and books where the main character doesn't remember a traumatic event. There are always exceptions, however — some authors do these better than others.
MANDY C.: I love the sense of adventure that most of the books seem to have, even if they're not "adventure" books. There's such a feeling of possibility with stories about teenagers that just isn't there in most "adult" books. Plus, like Jennie, I love reading about the firsts.
Inversely, teenagers can often be The Worst. They're moody and uncertain and can be really dumb at times. (Truthfully, though? I know plenty of adults who are the same way.) I tend to lean toward the more fantastical novels, and the characters in these genres seem to be less typical than those in contemporary ones.
I'm also super tired of the stories that have been turned into series, even though they could have been a much better standalone.
MANDY W.: Definitely agree on the series-ification of everything, especially as trilogies! There are some trilogies that I literally cannot remember a single thing that happened in the middle book.
JENNIE: Yes! Bring back the standalone.
4)   What book would you fight a zombie horde to save?
JENNIE: Just one? You're cruel. It would have to be the original The Secret Circle trilogy by L.J. Smith, since I have such memories attached to those books. Plus, I think they stand the test of time.
MANDY W.: Oh man, do I have to fight? In the event of a zombie apocalypse, I'd most likely hole up in an underground bunker aka my basement and then realize that I'm woefully unprepared because I don't have one of those Extreme Couponing storage closets. So I guess my answer is: I'd hoard all the books to create an impenetrable fortress.
MANDY C.: I'm going to go practical with this one and say I'd save something like Max Brooks' Zombie Survival Guide. I'd just have to hope that it would be of use!
5)   If you had a theme song, what would it be and why?
JENNIE: I have a theme song for everything, including doing the dishes, but in general… if I had to pick just one, I think I'll have to go with The Doors – "Soul Kitchen". It captures the mood of my time in San Francisco and to a lesser extent, LA, and all the adventures I've had in those cities.
MANDY W.: Wow, that's a tough one. I can't even figure out what the theme of my life would be. (Food? Travel? Shoes?) Instead, I'm going to choose my entrance music — like what baseball players and pro wrestlers have, because I obviously have so much in common with them. Anyway, my entrance song would be "In Your Honor" by Foo Fighters. That tour was the first Foo concert I went to (the intersection of Dave Grohl's optimal hotness with my ability to appreciate grown men), and it's just a badass way to kick off anything.
MANDY C.: "Mandy" by Barry Manilow, as covered by Me First and the Gimmie Gimmies. (Semi-kidding.) My musical tastes are constantly in flux, so something I like today is not might not even be in my top ten tomorrow, which makes this a hard question to answer. So, like Mandy W., I'm going to alter the question slightly, and go with the song that I'd like to have play as I enter a room: " I Want You Back" by The Jackson 5. If only because every time I heard it, I would be reminded of Dancing Baby Groot, and the thought of him makes me smile.
6)    What fictional character would you want to date and who would you want for a best friend?
JENNIE: As for best friend, I admired the friendship of Julie and Maddie from Code Name Verity. Although my best friend and my relationship was never so fraught with horror, she and I would certainly walk over hot coals for each other, just like the two of them. Luckily, we haven't had to.
As for who I'd date, Adam from The Secret Circle (the ultimate good-guy-with-a-dangerous-streak), Gansey from The Raven Boys, Cole St. Clair from the Wolves of Mercy Falls books, Levi from Fangirl, Adam from If I Stay/Where She Went, and Josh from Isla and the Happily Ever After all appeal to me big time.
MANDY C.: Definitely seconding Jennie's pick for Levi from Fangirl as who I'd date. He was just so dang swoony! (And he also kind of reminded me of my husband.) My best friend pick would be the Weasley kids from the Harry Potter series. They just seem like so much fun.
7)   What has been the biggest surprise/delight of your blogging career?
JENNIE: I've been blogging since it was called a "web log" and I had to manually update things, back in the dark ages — but the biggest delight has always been the sense of community, no matter whether it was a personal blog or FYA. I love that I can nerd out about my favorite books, TV, and food, and that people read what I have to say — including authors! If you'd told me at 13 that this would be A Thing, I never would have believed it.
MANDY W: The people I've met because of it: bloggers, publicists, authors — and especially the lovely ladies and Brian of FYA, past and present. And getting to hang out with some of them IRL, too! That never would have happened without blogging, for which I'll always be grateful.
MANDY C.: I'm thirding what Jennie and Mandy W. have said: The best part of blogging, for me, is the community. I've actually been blogging for nearly a decade, and have seen trends come and go, seen people become famous for their "silly little online journals," and lived vicariously through the lives of others. Through it all, I've made lifelong friends and connections with people I never would have connected with otherwise. With FYA, it's been the same—the YA community has pretty much always been gracious and willing to welcome noobs into their midst with open arms.
Mandy W., Jennie and Posh aren't so awful either. 😉
Thanks so much for being with us today, ladies. Check out Forever Young Adult 
here
!
xo
Tellulah
Subscribe for bonus content and insider scoops!
Tellulah's Old Darlings