Welcome to Book Blog Love November! All this month, I'm featuring book blogs that I love and the fabulous female(s) behind them. (Curl Up with a Good Book Sunday and my regular posts resume in December.) Each day in November, I'll spotlight a different blog whose content ranges from reviews to author interviews and events to book tours. All the bloggers graciously agreed to answer 7 questions about themselves. YA features predominantly in some, and in others is merely part of what they cover. So stick around and get to know these great chicks and the blogs they pour their hearts into. I bet you'll see some old favs and make some new ones.
Presenting: Risbee and Flutters and Flails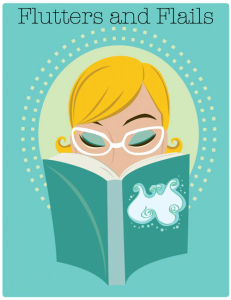 1)   
Describe your blog and tell us why you chose that name for it?
Ha!  My blog is soooo unlike what I had envisioned when I first started blogging.  I had all these amazing thoughts that I'd post 3-5 times a week and be so completely organized and sophisticated.  HA!  My blog is a total representation of my life.  Things happen when they happen.  And while that used to stress me out in a big way, I've come to the realization that reading is a hobby…my favorite hobby…and if I let it start to stress me out, then why bother.  So Im pretty sure I have the most "relaxed" blog on the planet.  The books I read are primarily YA and NA…but I'll read anything.  ANYTHING.
As for the name — I pulled it from my favorite feels.  When a book gives me flutters and flails, odds are I'm going to want to talk about it.  I am a super emotional reader, so the more I smile/hurt/cry/laugh/snort, the better.
2)   What are 3 things about you that would surprise people?
Hmmmmm…this is hard.  I really am a pretty average person leading a pretty average life.   I started playing the violin at the age of 10 and played in competitions in several states and toured England twice.   I am super shy but I've always wanted to be a competitor on So You Think You Can Dance.  I've never watched an episode of Doctor Who.
3)   Why do you love YA? And conversely is there anything that drives you nuts about it?
So many people look at me funny when I say I read YA books and it makes me sad.  There are so many amazing stories out there and just because a book is written with YA characters, that doesn't mean that you have to be YA to read them.  I read YA because I miss those moments.  The first loves, the first kisses, the cuteness that is so awkward that it makes you cringe and smile at the same time.  I read YA because reading is my escape from real life — I don't want to read about problems that I may or may not currently have.
Now, I will say that the one thing that makes me give YA the side-eye is this presence of perfect boys.  Granted, I'm definitely not in the YA age range, but those boys did not exist when I was in HS.  Levi, Charlie Hanson, Park, Josh Bennett, my list of book boyfriends is endless…where were they when I needed them???
4)   What book would you fight a zombie horde to save?

Seriously?  Are you going to ask me which child I'd save next?  Ruthless, Tellulah.  You are RUTHLESS!  I'm going to name 3 —

How to Kill a Rock Star by Tiffanie DeBartolo — I read this one at least once a year and it is the only book I've marked up with a pen.
Eleanor and Park by Rainbow Rowell — because Park.  **dreamy heart eyes**
Love and Other Unknown Variables by Shannon Lee Alexander. — because it was the first time my blog has had the opportunity to put a blurb on a cover, because my real name is in the acknowledgements, and because the author is one of my oldest friends and this book brought us back together.
5)   If you had a theme song, what would it be and why?

 I think, today, I'd have to say More Than A Feeling with a little bit of Anna Begins thrown in there.  As for why…because MTAF is my drop everything and dance in the kitchen song and AB brings back a moment in my life that hurts to remember, but would hurt even more to forget.

6)    What fictional character would you want to date and who would you want for a best friend?

Stop it with the impossible questions.  Going through my choices, there are so many that are obviously on my short list…Josh Bennett, Matt Finch, Park, Jace, Augustus Waters…and gah, they all make me swoon in their own swoony ways, but then I remember just how guarded I am and that really, the best fit for me would be somebody that is isn't so obviously and immediately perfect.  Does that make any sense at all?  So I'm going to go with Hector from the Fire and Thorns series.
The Best Friend — Luna Lovegood.  Hands down.

7)   What has been the biggest surprise/delight of your blogging career?

The biggest surprise is how difficult it is to blog — going in, I had no idea how much work it took to stay organized and post regularly.  I figured, "hey, I read, I write reviews on Goodreads…easy peasy."  Yeah…not so much.  But I do love it so I keep on plodding along at my unpredictable and irregular pace — and this is why: Book people are the best people.  Sure there is drama every now and then, but for the most part, the book world is a level playing field.  There is something for every personality, every interest, every reading level…and if you can't find it, all you have to do is ask.  Somebody will offer up a rec.  I totally consider my bookish friends a part of my extended family.         
Subscribe for bonus content and insider scoops!
Tellulah's Old Darlings