Welcome to Book Blog Love November! All this month, I'm featuring book blogs that I love and the fabulous female(s) behind them. (Curl Up with a Good Book Sunday and my regular posts resume in December.) Each day in November, I'll spotlight a different blog whose content ranges from reviews to author interviews and events to book tours. All the bloggers graciously agreed to answer 7 questions about themselves. YA features predominantly in some, and in others is merely part of what they cover. So stick around and get to know these great chicks and the blogs they pour their hearts into. I bet you'll see some old favs and make some new ones.
Presenting: Nicole and Feed Your Fiction Addiction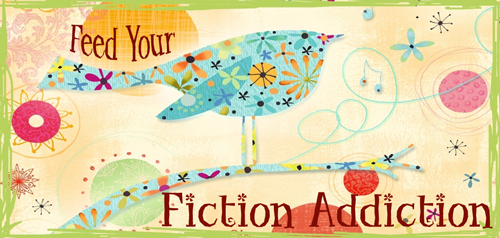 1) Describe your blog and tell us why you chose that name for it?
My blog is a place where people can find new books to love! I feature reviews, giveaways, discussions and more. I also feature a range of genres—I started out reading mostly paranormal and fantasy, but have found that there are SO many other great books out there. Now I also read a lot of contemporary YA and NA and occasionally throw in a book of another random genre. But, I'll always hold a special place in my heart for fantasy and paranormal!
My blog is very aptly named. I read over 200 books in a year, and I just feel wrong if I'm not in the middle of a book. Sometimes I think I have an almost unhealthy obsession with reading—it might actually border on addiction. Just ask my husband and kids—they'll tell you that when I'm really engrossed in a good book there's no getting through to me!
2) What are 3 things about you that would surprise people?
I homeschool my kids, which isn't as tough as I thought it would be—it's actually very fun most of the time. I teach musical theatre and acting at our local homeschool co-op too!
Even though I live in boring, flat Illinois, I'm a mountain girl at heart. Someday I'm going to manage to move somewhere with pretty scenery and mountains to hike!
In addition to being a blogger, I'm also a freelance editor. I absolutely love editing, both the copyediting side of things and content editing. I'm one of the few people who've read The Copyeditor's Handbook from cover to cover and actually enjoyed it!
3) Why do you love YA? And conversely is there anything that drives you nuts about it?
I think we all still have a little YA left in us. Even at 40, I still vividly remember what it was like to go through that tumultuous time of life, when every step we took felt so incredibly important and full of drama. During our YA years we're figuring out who we are, and there's something really compelling about that—it makes for great stories!
On the other hand, being an adult does mean that there are certain elements of some YA books that I've outgrown. I'm not a fan of insta-love (not that it only happens in YA books, but it definitely seems to be more prominent there) and love triangles can be frustrating too, if they're not done right. I'm also not always crazy about high school mean girl drama (again, depending on how it's done). But I would say that, in general, I'm a big fan of YA. When done right, it can be so powerful!
4) What book would you fight a zombie horde to save?
Actually, it would probably be my kids' books. If the zombies were coming, I'd be pulling books off the shelves for them to make sure they still had things to read!!
5) If you had a theme song, what would it be and why?
I have to say "Happy Together" by The Turtles because it's a song that I used to sing a lot with my mom and now I love to sing it with my daughter. It's cheerful and positive and just a lot of fun!
6) What fictional character would you want to date and who would you want for a best friend?
Hmmm … this is a hard one for me. My favorite book boyfriend changes with practically every book I read. I fall in love way too easily! But I guess I'd say Ridge from Colleen Hoover's Maybe Someday. Bad boys are awesome in books, but I'd want a sweet guy in real life!
As far as best friends go, I think I'd choose Rose from Vampire Academy. She's loyal, fun and snarky and really handy to have around (just in case that zombie apocalypse from question 4 really does happen)!
7) What has been the biggest surprise/delight of your blogging career?
There have been so many! When I started blogging, I thought I was just going to write some reviews and be done with it. But I've met so many amazing bloggers along the way and have had the opportunity to meet some of my favorite authors at huge events like BEA (and smaller events nearby). Then there's the books – SO many fantastic books to read! I could honestly go on and on …
Thanks so much for being with us today, Nicole. Check out Feed Your Fiction Addiction 
here
!
xo
Tellulah
Subscribe for bonus content and insider scoops!
Tellulah's Old Darlings