Welcome to Book Blog Love November! All this month, I'm featuring book blogs that I love and the fabulous female(s) behind them. (Curl Up with a Good Book Sunday and my regular posts resume in December.) Each day in November, I'll spotlight a different blog whose content ranges from reviews to author interviews and events to book tours. All the bloggers graciously agreed to answer 7 questions about themselves. YA features predominantly in some, and in others is merely part of what they cover. So stick around and get to know these great chicks and the blogs they pour their hearts into. I bet you'll see some old favs and make some new ones.
Presenting: Shy and Doctor's Notes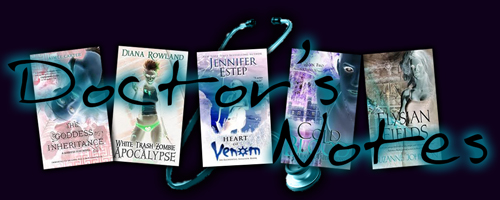 1)   Describe your blog and tell us why you chose that name for it?
My blog is mostly a YA blog but I have been becoming more of an electic reader so starting to branch out into other genres. My husband actually came up with the name since Doctor is my actual last name. Once he said it from there it stuck and I have been Doctor's Notes since.
2)

   
What are 3 things about you that would surprise people?
I think the first thing that shocks most people is that I have 3 kids one being a 14 year old. She loves to read just as much as me and we often share books. I am actually really quiet and a bit of an introvert but once I open up you won't be able to get me to stop talking. My people are also shocked when I say I have been married for 11 years also since I got married so young.
3)

   
Why do you love YA? And conversely is there anything that drives you nuts about it?
I love YA because it is an escape from normal life. I love reading about what these young kids are going through and also I love that since my oldest also reads it we get a chance to talk about some situations that we may not normally get the chance to. The only thing that annoys me are the instalove books.
4)

   
What book would you fight a zombie horde to save?
HHM my favorite book of all time is To Kill a Mockingbird.
5)

   
If you had a theme song, what would it be and why?
I don't know that I have a song that I would consider a theme song.
6)

   
 What fictional character would you want to date and who would you want for a best friend?
Wes from the Dirty Blood series by Heather Hildenbrand  as someone to date.
7)

   
What has been the biggest surprise/delight of your blogging career?
The biggest surprise is how helpful other bloggers are. They really will welcome you in and help you out and I love the authors that are so happy that readers are reading their books.
Thanks so much for being with us today, Shy. Check out Doctor's Notes 
here
.
xo
Tellulah
Subscribe for bonus content and insider scoops!
Tellulah's Old Darlings