Welcome to Book Blog Love November! All this month, I'm featuring book blogs that I love and the fabulous female(s) behind them. (Curl Up with a Good Book Sunday and my regular posts resume in December.) Each day in November, I'll spotlight a different blog whose content ranges from reviews to author interviews and events to book tours. All the bloggers graciously agreed to answer 7 questions about themselves. YA features predominantly in some, and in others is merely part of what they cover. So stick around and get to know these great chicks and the blogs they pour their hearts into. I bet you'll see some old favs and make some new ones.
Presenting: Dayla and Confessions of a Book Addict.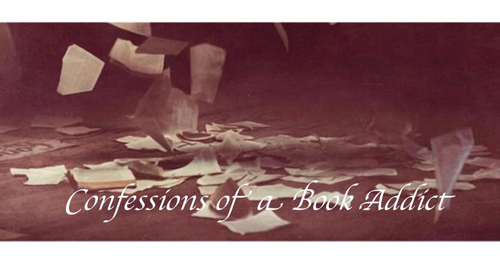 1)   
Describe your blog and tell us why you chose that name for it?
My blog is a place where I can share my love of reading with other readers. It's not a conventional or traditional book blog, since it is a Tumblr blog, but what I love about Tumblr is that it's like a community of mutual understanding when it comes to books. I do the occasional review, post about reading, and I love to encourage reading equality. To me, reading is something that should be cherished and celebrated, not marginalized and exclusive (i.e. the constant argument that young adult isn't an age group for adults.)
I chose Confessions of a Book Addict on a whim, because I was planning on making my blog into a small, quiet place where I could post reviews. Then, as it became more well known, I decided to purchase the .com for BookAddict24-7, since I pretty much eat, breathe, and sleep books. To me, Confessions of a Book Addict and BookAddict24-7 are interchangeable, since I feel like both have meaning for me.
2)   
What are 3 things about you that would surprise people?
1. I tend to read a lot more than I let on sometimes. For example, there are a ton of books that I've read, but haven't reviewed, so they never make it to my blog.
2. Sometimes I worry that my obsession with buying books will really hold me back in the near future–especially since I'm an "adult" now and need to focus on making my place in the world.
3. Despite my outgoing personality (both in person and on my blog), I'm an introvert. I can only be around people for so long. I guess that's why reading is so great for me.
3)   
Why do you love YA? And conversely is there anything that drives you nuts about it?
I'm a huge advocate for the YA age group because I feel like it's so grossly underrated. People have gone through one or two bad experiences with YA, or they've just immediately assumed that it's a kids' age group, so they don't even try with YA books.
I love YA because it has so much to offer. Almost any genre that you want, you can get in the YA age group. Also, I love that there are different levels of YA. There's the younger teen books, the just-finding-themselves teen books, and the mature, soon-to-be-going-to-college teen books. But what I love most is that they can be both fluffy and deep, just like any general fiction or literary novel. There's just so much to offer in YA lit!
What I'm not a huge fan of is the overuse of certain genres, tropes, and themes. With The Hunger Games, The Fault in Our Stars, and Twilight, many, many books exploring the same things found in these three novels have been published and marketed, as if one of them will become the next big thing. Perhaps it is this theme and genre abuse that has made YA lit look a bit less than inviting. Also, with If I Stay, I foresee a lot more novels copying THAT storyline. It's a continuous cycle that just repeats itself again and again, perpetuating the notion that there is no such thing as a truly original idea anymore.
4)   
What book would you fight a zombie horde to save?
Haha! I think I asked something like this on my blog once–you'd be surprised to see people's responses! I don't know if I could choose just one, but under duress, I would probably choose Can You Keep A Secret by Sophie Kinsella…or Harry Potter and the Goblet of Fire by J.K. Rowling. It's too hard to choose between those two!
5)   
If you had a theme song, what would it be and why? 
Wow, um, I've never even thought about something like this! I usually just listen and re-listen to whatever song suits my mood… Right now? Probably "Belle" from Disney's Beauty and the Beast. Just because I'm currently obsessed and it kind of speaks to me.
6)   
 What fictional character would you want to date and who would you want for a best friend?
This is actually a surprisingly easy question for me! I would date Jamie from Outlander by Diana Gabaldon, because he's perfect. As for my best friend…hm…maybe Meira from Snow Like Ashes by Sara Raasch because she's just as rash as me (no pun intended), and I love how she treated the whole love triangle thing (which is another pet peeve of mine with YA lit.) 
7)   
What has been the biggest surprise/delight of your blogging career?
How supportive the community is! Of course, when I first started blogging, I never expected to be where I am today. I never thought that I would be featured on other blogs (Thank you, Tellulah!), I never thought that I'd have a chance to read and review copies of upcoming books, and I especially never thought that I would be such an advocate for reading. I love blogging and though sometimes I like to take a breather to just read and live life, I will forever be grateful to whatever urged me to start my blog. 
Subscribe for bonus content and insider scoops!
Twittering away...
https://t.co/1UHQhm57rN Cautiously optimistic about the premise
- Wednesday Feb 21 - 9:20pm
SPOILER ALERT! A fabulous video that you absolutely SHOULD NOT WATCH if you have not yet seen The Good Place s1 fin… https://t.co/Jqf3UnxHg3
- Tuesday Feb 20 - 4:15am
Lose yourself in a funny, sexy urban fantasy romance! The Unlikeable Demon Hunter: Crave releases Feb 20 and to cel… https://t.co/WPcUSnVRRu
- Sunday Feb 18 - 4:56pm
Bet you didn't know you could pair tap dancing and Star Wars! https://t.co/GS2qzvH7nJ
- Friday Feb 16 - 8:45pm
Better late than never! Discovered the Haim Time podcast on Beats One. So good!
- Friday Feb 16 - 6:45pm
Tellulah's Old Darlings