Welcome to Book Blog Love November! All this month, I'm featuring book blogs that I love and the fabulous female(s) behind them. (Curl Up with a Good Book Sunday and my regular posts resume in December.) Each day in November, I'll spotlight a different blog whose content ranges from reviews to author interviews and events to book tours. All the bloggers graciously agreed to answer 7 questions about themselves. YA features predominantly in some, and in others is merely part of what they cover. So stick around and get to know these great chicks and the blogs they pour their hearts into. I bet you'll see some old favs and make some new ones.
Presenting: Deniz and Closet Geeks and Slo Mo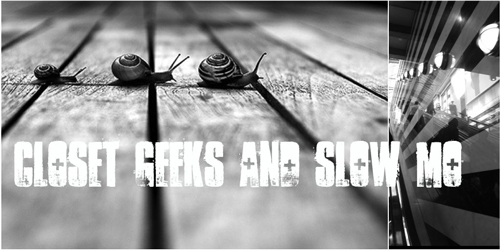 1)   Describe your blog and tell us why you chose that name for it?
We're a bunch of reading buddies that blog together about all things related to books. We all met online, most through Goodreads, and bonded over our love for books. Only two of us actually met in real life, but we basically chat daily with each other, not just about book things naturally. Since all of us are total book borders and avid readers, it is always going an important part of our lives. Our blog is kinda the expression of that.
Our name is really who we are- we all (closet) geeks, another thing we bond over And when I discovered that in comparison to their speed reading habits mine are rather slow…  I became the groups official queen slow mo. I should mention that I always thought I was a fast reader and most of my friends and family would tell you I am- apparently I am not speedy enough for my geek girls, so it was kind of a personal joke between us.
2)   What are 3 things about you that would surprise people?
English is my third language – I speak 5 fluently
I studied Chemistry but work now as a Jewellery Designer.
I read my first fantasy at 10 and kept reading them till I hit my twenties. But I didn't read any YA or Fantasy in my twenties. (I read "serious" books like the classics and loads of philosophy and biography) Picked them only up again in my early thirties.
3)   Why do you love YA? And conversely is there anything that drives you nuts about it?
YA expresses a time in someone's life – a time of immense changes and discoveries. And since I felt very strongly about it when I went through it, I love reading about other people journeys. AND then there is the fun – cute and fluffy just works best as YA.
Cliche is my pet hive. I don't want to be able to know where a book is going when I am on page 5.
Oh and add shallow, whiny and bitchy characters to it as well.
4)   What book would you fight a zombie horde to save?
EEPP! uhm all of mine?  I have to choose just one?! Frankly that would be the sure death of me. I probably would try and grab my suitcase and stuff it with as many books as I could. Then I would grab my kindle- since it has currently over 50 books on it, all books I am planning to read.
Did I mention I've got commitment issues?
5)   If you had a theme song, what would it be and why?
Oh my theme song changes all the time.
Last year it was: "The Less You Have to Carry" by Tiger Lou, "Summertime Sadness" by Lana Del Rey.
This year Lorde kinda ruled my theme songs. So when I was traveling by myself it was "World Alone", then since my work schedule is super hectic "Team" and right now "Gore and Glory" – cause I think, we all are superheros sometimes.
Basically these are the songs that I listen most to, sing all the time and speak to me the most.
6)    What fictional character would you want to date and who would you want for a best friend?
Book boyfriends?! Oooh so many hotties. And I have commitment issues! I would say, uh…..I kinda have a list? Does that work?
Josh from Sea of Tranquility, Lucas from Easy, Adam from If I stay/ Where she went, Grayson from Avery Shaw Experiment, and naturally Barrons cause well, he is Barrons.
Add to that probably every hottie from the last great book I read.
Again just one best friend?! I would like to be part of the clique of Lumetere Chronicles. Oh darn and every well written character driven novel.
Did I mention I've got commitment issues?
7)   What has been the biggest surprise/delight of your blogging career?
The connections I made with other people who love reading and adore books. Seriously best thing ever. Be that amazing authors or fellow readers – I really met some pretty amazing people, some became really good friends. Most left a lasting impression.
I visited BEA this year – the best part was meeting people. I loved getting books, obviously. But I was taken aback at how nice all the readers and bloggers were and most authors I met really blew me away.
I can only speak positively about my experience with the book community and blogging has been a gateway to meet many people from it.
Thanks so much for being with us today Deniz. Check out Closet Geeks and Slo Mo 
here
!
xo
Tellulah
Subscribe for bonus content and insider scoops!
Twittering away...
https://t.co/1UHQhm57rN Cautiously optimistic about the premise
- Wednesday Feb 21 - 9:20pm
SPOILER ALERT! A fabulous video that you absolutely SHOULD NOT WATCH if you have not yet seen The Good Place s1 fin… https://t.co/Jqf3UnxHg3
- Tuesday Feb 20 - 4:15am
Lose yourself in a funny, sexy urban fantasy romance! The Unlikeable Demon Hunter: Crave releases Feb 20 and to cel… https://t.co/WPcUSnVRRu
- Sunday Feb 18 - 4:56pm
Bet you didn't know you could pair tap dancing and Star Wars! https://t.co/GS2qzvH7nJ
- Friday Feb 16 - 8:45pm
Better late than never! Discovered the Haim Time podcast on Beats One. So good!
- Friday Feb 16 - 6:45pm
Tellulah's Old Darlings