Welcome to Book Blog Love November! All this month, I'm featuring book blogs that I love and the fabulous female(s) behind them. (Curl Up with a Good Book Sunday and my regular posts resume in December.) Each day in November, I'll spotlight a different blog whose content ranges from reviews to author interviews and events to book tours. All the bloggers graciously agreed to answer 7 questions about themselves. YA features predominantly in some, and in others is merely part of what they cover. So stick around and get to know these great chicks and the blogs they pour their hearts into. I bet you'll see some old favs and make some new ones.
Presenting: Tabitha and Bows and Bullets Reviews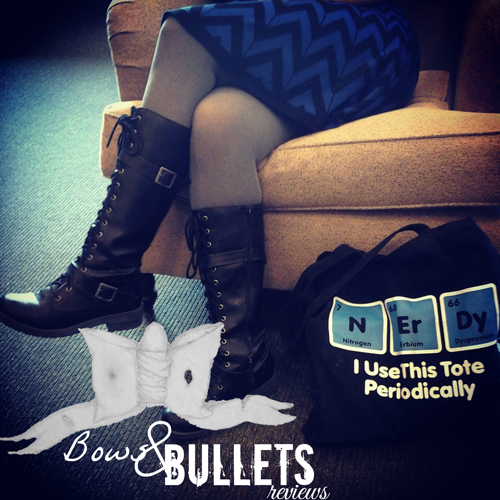 1) Describe your blog and tell us why you chose that name for it?
Mostly, it's a book review/promotion blog. I review books from the young adult, new adult, and historical romance genres. I occasionally do reviews outside those boundaries, but that's where my interests mostly lie. I also very off the bookish topics some, if something in a show or movie or the media grabs my mind and won't let me go. I did a pretty epic 2-part rant on the film How To Train Your Dragon 2 (part 1 & part 2 )and how I felt like certain parts of that film were unnecessary. The name was inspired by a personal fuckup. There is a song called Home by Breaking Benjamin that I absolutely love. I always thought the first line was "I've got a little red bow and a bullet for you." Actually, it says "I've got a little red bow and I bought it for you," but I always liked the wrong line more and when looking for a name, I took inspiration from that.
2) What are 3 things about you that would surprise people?
I hate almost all classic literature (except Jane Austen). I find most of it stuffy and dull and depressing.
I live in the south, but I hate sweet tea. It's basically sugar water and it's gross.
I don't like The Walking Dead. I watched the entire first season on DVD and found it rather boring.
3) Why do you love YA? And conversely is there anything that drives you nuts about it?
One of my favorite things about YA is that it is so very readable. I feel like too many "adult" books try to beat you over the head with their intelligence, throwing in big words not because it's best for the story, but because they want to show their readers that they know the big words well enough to use them. I also just love those coming of age stories in all forms. I love the angst. I don't just love it in written form, either. I'm a sucker for those high school romcoms. 10 Things I Hate About You is the greatest movie of all times, in my humble opinion.
One thing that drives me nuts is the exact opposite of what irritates me about adult novels. There are moments where I feel like sometimes the author dumbs things down to make sure their readers understand. I also abhor cliffhangers. I know those happen in adult novels as well, but it's an epidemic in YA literature. Oh, and insta-love! Please, authors everywhere, change to using insta-lust. I'm good with that. I see a hot stranger across a crowded room and instantly want to jump his bones is a totally plausible situation. Seeing a hot stranger across the room and instantly knowing that I'm meant to be with him, not so much.
4) What book would you fight a zombie horde to save?
It would have to be The Night Circus by Erin Morgenstern. This novel has amazing writing, intricate plot twists, and loveable characters. It's a novel you can read over and over and see something new each time. Plus, it has a ridiculously gorgeous cover.
5) If you had a theme song, what would it be and why?
Damn that's a hard question. Right now, it would be Hard Out Here by Lily Allen, which is completely out of my normal music range. I'm generally more of a rocker, but I love the girl power vibe of this song. I love the line "If you can't detect the sarcasm you've misunderstood" because I speak fluent sarcasm.
6) What fictional character would you want to date and who would you want for a best friend?
I would love to be besties with Jessica Darling from Megan McCafferty's Jessica Darling series. She's so smart and observant and snarky, I feel like we'd get along extremely well. The second part of that question is harder to answer. Part of what I love about many of my favorite heroes is their devotion to their counterparts, so I have a hard time imagining myself stealing them away. But….if I hate to pick one, it would be….I honestly don't know if I can pick one! I'm a huge Kai fan from your Blooming Goddess Trilogy, but I also love Damon from The Vampire Diaries (the books, not the show, and yes there is a huge difference) and Micha from Jessica Sorensen's The Secret series and Will Killian from Stacey Kade's The Ghost & The Goth series and Frankie from Jessa Russo's Ever trilogy…and I could go on!
7) What has been the biggest surprise/delight of your blogging career?
This moment ranks up there pretty high! There have been a lot of great moments. If I had to rank the best one, though, it's a completely random one. I'm a newish blogger (I just past my one year anniversary on October 27th) and I don't have a bunch of followers. I've yet to hit the magical hundred, so anytime someone recognizes me, I'm blown away. Right after BEA this year, I received a comment on my blog from Tabitha over at Not Yet Read saying she had to say hello to the other Tabitha in blogging. She said someone mentioned me and my blog to her at BEA. Words cannot express my feelings for that moment. Knowing I have a few followers is one thing, but when they tell other people about my blog? The term insane fangirling comes to mind. I want to find that person and send them a present.
Thanks so much for being with us today, Tabitha. Check out Bows and Bullets Reviews 
here
!
xo
Tellulah
Subscribe for bonus content and insider scoops!
Twittering away...
Husband just remembered that once, when asked what she wanted to be when she grew up, my kid replied, "I wanna be on stilts!" #soproud
- Friday Feb 23 - 9:25pm
https://t.co/1UHQhm57rN Cautiously optimistic about the premise
- Wednesday Feb 21 - 9:20pm
SPOILER ALERT! A fabulous video that you absolutely SHOULD NOT WATCH if you have not yet seen The Good Place s1 fin… https://t.co/Jqf3UnxHg3
- Tuesday Feb 20 - 4:15am
Lose yourself in a funny, sexy urban fantasy romance! The Unlikeable Demon Hunter: Crave releases Feb 20 and to cel… https://t.co/WPcUSnVRRu
- Sunday Feb 18 - 4:56pm
Bet you didn't know you could pair tap dancing and Star Wars! https://t.co/GS2qzvH7nJ
- Friday Feb 16 - 8:45pm
Tellulah's Old Darlings