Welcome to Book Blog Love November! All this month, I'm featuring book blogs that I love and the fabulous female(s) behind them. (Curl Up with a Good Book Sunday and my regular posts resume in December.) Each day in November, I'll spotlight a different blog whose content ranges from reviews to author interviews and events to book tours. All the bloggers graciously agreed to answer 7 questions about themselves. YA features predominantly in some, and in others is merely part of what they cover. So stick around and get to know these great chicks and the blogs they pour their hearts into. I bet you'll see some old favs and make some new ones.
Presenting: Jenny and Book Sojourner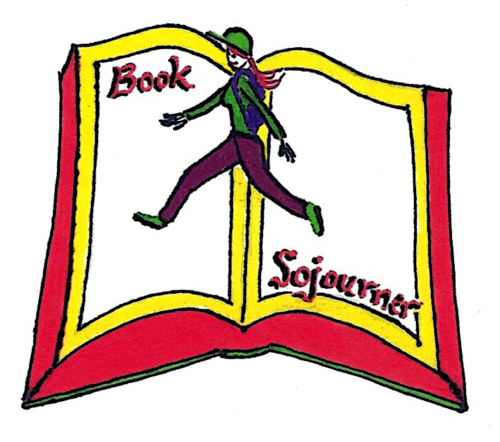 1)   Describe your blog and tell us why you chose that name for it?
My blog, Book Sojourner, is a little something I started a couple years ago because I simply love to read books. After befriending some other bloggers, I loved how they integrated into the book community. I love discussing books with friends on and off line, and blogging about what I have read or am looking forward to reading has been a great outlet for me. I read all kinds of genres, so there's a little something for everyone here. When I get excited about a book or an author, I want others to know about them, too. When I think of reading I think of traveling through the pages of that story, so along those lines my husband was able to come up with the name Book Sojourner to signify just that. He even made my little logo.
2)   What are 3 things about you that would surprise people?
1. I have never permanently colored/dyed my hair. I like my natural hair color and I'm really low maintenance with it, so dying it would be way too big of a commitment for me.
2. I have only had one boyfriend and am still happily married to him. I'm a very lucky girl.
3. My husband, three sons, and I attended San Diego Comic Con for the first time this year. It was so awesome we've already bought our tickets for next year.
3)   Why do you love YA? And conversely is there anything that drives you nuts about it?
I love YA because, although I am no longer in the YA age range, I love that this genre can still relate to everyone. I like the newness of the experiences, the incredible changes, the hope of overcoming difficulties, and the optimism for the future. Even within the YA genre, there is still a huge range of writing styles, levels, and concepts. There really is something for everyone. I also love that it brings generations together. I can talk with my kids or my friends' kids about YA books and we can be at the same level. My father even reads some YA and we've had some great discussions. It's really a lovely thing. What I don't like are one-dimensional characters or hopeless stories. I like character driven stories and I like hope, so anything too superficial or too dramatic and depressing just for the sake of being dramatic and depressing aren't normally my cup of tea.
4)   What book would you fight a zombie horde to save?
I have a huge collection of books, many of which are signed. I would probably do a full body block on my shelves to save them. But narrowing it down to one (which is really difficult!), I'd have to save my signed copy of Gregor the Overlander by Suzanne Collins. Since I'll probably never get my Hunger Games books signed, I must save this one. I'd also try to grab my signed The Fault in Our Stars by John Green and some of my signed Cassandra Clare books and then… I would need some more arms to carry them in or have already been eaten by zombies. Well, I'd at least grab my kindle.
5)   If you had a theme song, what would it be and why?
This is a hard one. My knee-jerk response is to say "Baby Got Back" by Sir Mix-a-Lot, because, well, I have some junk in the trunk. But after more thought, I'll go with "Dream On" by Aerosmith because I believe anyone can do anything if they really want it enough. I try to be an optimistic person. One of my favorite movies is called "Miracle" about the US Olympic Hockey team. The movie uses this song, and I always feel inspired by both the song and the movie.
6)    What fictional character would you want to date and who would you want for a best friend?
To be honest, when I read Twilight, it totally reminded me of my husband. I know that sounds very strange, because my husband is neither a vampire nor a creepy stalker (sorry Edward, you were a little creepy at times). But the sweetness of Bella and Edward's relationship reminded me of dating my husband, so I guess I would have to go with Edward Cullen as my date. My other choice would be Caleb Jacobson from Shelly Crane's Significance series because he's just so great! As for a best friend, I'd have to go with Puck from Julie Kagawa's Iron Fey series. He's truly the ultimate best friend.
7)   What has been the biggest surprise/delight of your blogging career?
The biggest surprise of my blogging life has been the encouraging response from authors and readers. I know that my blog does not extend into the far reaches of the galaxy and my audience is finite, but when even one person or one author reads a review of mine and appreciates it, it is a true delight. I've also befriended some wonderful people who I never would have met otherwise, and have met tons of engaging authors at book events, so I feel truly blessed.
Thanks so much for being with us today, Jenny. Check out Book Sojourner 
here
!
xo
Tellulah
Subscribe for bonus content and insider scoops!
Twittering away...
SPOILER ALERT! A fabulous video that you absolutely SHOULD NOT WATCH if you have not yet seen The Good Place s1 fin… https://t.co/Jqf3UnxHg3
- Tuesday Feb 20 - 4:15am
Lose yourself in a funny, sexy urban fantasy romance! The Unlikeable Demon Hunter: Crave releases Feb 20 and to cel… https://t.co/WPcUSnVRRu
- Sunday Feb 18 - 4:56pm
Bet you didn't know you could pair tap dancing and Star Wars! https://t.co/GS2qzvH7nJ
- Friday Feb 16 - 8:45pm
Better late than never! Discovered the Haim Time podcast on Beats One. So good!
- Friday Feb 16 - 6:45pm
SNL, why did you cut this?! https://t.co/zW8qYyVfc0
- Tuesday Feb 13 - 12:45am
Tellulah's Old Darlings