Welcome to Book Blog Love November! All this month, I'm featuring book blogs that I love and the fabulous female(s) behind them. (Curl Up with a Good Book Sunday and my regular posts resume in December.) Each day in November, I'll spotlight a different blog whose content ranges from reviews to author interviews and events to book tours. All the bloggers graciously agreed to answer 7 questions about themselves. YA features predominantly in some, and in others is merely part of what they cover. So stick around and get to know these great chicks and the blogs they pour their hearts into. I bet you'll see some old favs and make some new ones.
Presenting: Emily and Jenn and Book Jems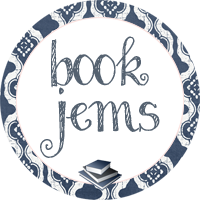 1)   Describe your blog and tell us why you chose that name for it?
One pushy girl, who wouldn't take no for an answer, badgered the other girl until she gave in and joined the blogosphere. We plan to take over the world by obsessing over books! We got our name by combining our name, and what we love the most. Books + Jenn + Emily = Book Jems.
2)   What are 3 things about you that would surprise people?
 1. Jenn's true age will surprise everyone (even Emily). Hint: It's not 26.

 2. Emily has over two-hundred signed books. (No wonder she's broke.)
 3. We've never actually met in real life.
3)   Why do you love YA? And conversely is there anything that drives you nuts about it?
A lot of people when they say what attracts them to YA is all of the "firsts," and we definitely agree with that. You get to experience everything first hand, when it's still shiny, and new. And when reading contemporary fiction, it's a nice way to relive high school if yours sucked. We also like that authors aren't afraid to tackle controversial subjects in YA, like just because their stories are aimed at teenagers who are still struggling to find their place in society, doesn't mean they need to hide the cruelty and truth of the world from them. Both of us are driven mad by insta-love, drama for the sake of drama, and the portrayal of families in YA fiction (aka the lack of a good family dynamic).
4)   What book would you fight a zombie horde to save?
Our conversation about what book we'd save from a zombie horde went like this:
J: "I don't know what book I would fight a zombie horde to save, but I do know that I would fight a zombie horde with books. Think about it, some of those make amazing weapons."
E: "I just imagined you pushing a bookshelf onto a zombie and then jumping on the bookshelf…"
J: "Done and done. Zombies going down. Do you have a book you would save?"
E: "Uhm… I have to pick just one?"
J: "And as I'm pushing the bookshelf on the zombies, Emily is diving in and trying to save them all."
E: "Pretty much. 'JENN. NOT THE BOOKS. WHY. WHY.'"
J: "CHOOSE LIFE, EMILY."
5)   If you had a theme song, what would it be and why?
Emily's theme songs are "Tightrope" by Walk the Moon, and "Spinning" by Jack's Mannequin. Jenn's theme songs are "I Lived" by One Republic, and "We Own Tonight" by New Kids on the Block. Though we both agree that we have soundtracks about our lives that change depending our moods, and the current events in our lives.
6)    What fictional character would you want to date and who would you want for a best friend?
Jenn would like to date Gansey from The Raven Cycle, or Etienne from Anna and the French Kiss. She'd like her best friend to be Nick Merrick from Elemental and Anna from Anna and the French Kiss. Emily would like to date Chaol from Throne of Glass, Cricket from Lola and the Boy Next Door, or Gansey. She'd like her want my best friends to be Cinder from the Lunar Chronicles, and Gen from The Queen's Thief.

7)   What has been the biggest surprise/delight of your blogging career?
Jenn's biggest delight of her blogging career is getting to know Emily as a blogging partner and now as friend. Emily's biggest blogging delights are the friends she's made (especially the ultimate bae, Jenn), and how this has helped her network herself in the publishing industry so she may further her career later on. The biggest surprises are that she still love books, and blogging as much as she did when she first started blogging.
Thanks so much for being with us today Emily and Jenn. Check out Book Jems 
here
!
xo
Tellulah
Subscribe for bonus content and insider scoops!
Twittering away...
Finally worked my way through my TBR pile to Keystone by Dannika Dark and I'm so glad I did! https://t.co/7mNkl5f3dP https://t.co/DQRCBD1xCf
- Sunday Feb 25 - 4:54pm
Husband just remembered that once, when asked what she wanted to be when she grew up, my kid replied, "I wanna be on stilts!" #soproud
- Friday Feb 23 - 9:25pm
https://t.co/1UHQhm57rN Cautiously optimistic about the premise
- Wednesday Feb 21 - 9:20pm
SPOILER ALERT! A fabulous video that you absolutely SHOULD NOT WATCH if you have not yet seen The Good Place s1 fin… https://t.co/Jqf3UnxHg3
- Tuesday Feb 20 - 4:15am
Lose yourself in a funny, sexy urban fantasy romance! The Unlikeable Demon Hunter: Crave releases Feb 20 and to cel… https://t.co/WPcUSnVRRu
- Sunday Feb 18 - 4:56pm
Tellulah's Old Darlings