Welcome to Book Blog Love November! All this month, I'm featuring book blogs that I love and the fabulous female(s) behind them. (Curl Up with a Good Book Sunday and my regular posts resume in December.) Each day in November, I'll spotlight a different blog whose content ranges from reviews to author interviews and events to book tours. All the bloggers graciously agreed to answer 7 questions about themselves. YA features predominantly in some, and in others is merely part of what they cover. So stick around and get to know these great chicks and the blogs they pour their hearts into. I bet you'll see some old favs and make some new ones.
Presenting: Booknut and 21st Century Once Upon A Times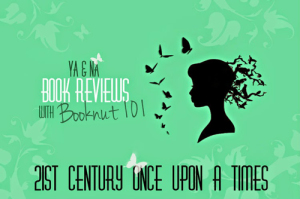 1) Describe your blog and tell us why you chose that name for it?
I like to think of my blog as a bookhaven – a place where I can share my love of literature with my fellow bookworms. My reviews and posts are aimed at getting readers to enter my blog with a love of books…and to emerge with an addiction to them!
I chose to name my blog 21st Century Once Upon A Times for many reasons. The main one being that I'm a total romantic at heart! I believe that fairytales and happy endings don't only exist between the pages of a book, or in an era filled with ballgowns and top hats. I'd like to think they could exist in our lives, here in the 21st century.
My blog is about sharing 21st century tales by today's authors, and inspiring readers to create their own happy ever afters in their everyday lives.
2) What are 3 things about you that would surprise people?
I think the 3 things that would surprise people about me would be:
#1: I'm currently a student at university and am studying to become an archaeologist! The highlight of my studies is getting to work with ancient artefacts, which is so much fun.
#2: I wasn't always a reviewer on a blog. Before I created 21st Century Once Upon A Times, I wrote reviews for my school's student newspaper. I got such a good response from other students that I decided to try sharing my reviews with a wider audience…hence my blog!
#3: My love of creative writing started when I was 7 years old. I wrote a book for my little sister, about two sisters who entered a portal into Fairyland and had lots of adventures. It had illustrations and everything. The book itself is so much fun to read – especially because it features such appalling grammar!
3)  Why do you love YA? And conversely is there anything that drives you nuts about it?
What I love about YA is the sheer amount of diversity. It's a melting pot of romance, paranormal elements, dystopian concepts, mystery, fantasy…and I could go on. It's this diversity that gives readers such a wide range of books to read and love. YA authors create brilliant concepts that ignite the imagination in unique ways.
There are some things about YA, though, that drive me a little nutty! One of those is the shame and stigma attached to YA books.
Some people seem to believe that because these books are put into this 'young adult' group, that they're only meant for young adults. Added to this, I've even come across people who believe certain YA books (due to their content and/or covers) are meant for either male or female readers – not both.
Which is just silly, because books should be enjoyed by all people, of all ages. My mother reads the same books I do – and she loves them as much as I do! I've given supposed 'girly' books to male friends of mine who've enjoyed them as much as any girl. YA books are for everyone.
4) What book would you fight a zombie horde to save?
That's a difficult question! I adore all of my books, but if I had to save just one…it'd probably be my extremely well worn copy of Crown Duel by Sherwood Smith. It was the first book that made me fall in love with the YA genre, and I've re-read it too many times to count!
Hopefully there are some cultured zombies in the attacking horde, who appreciate good literature. We can form an apocalyptic bookclub!
5) If you had a theme song, what would it be and why?
It would have to be Brave by Sara Bareilles. I love this song because its lyrics inspire me to be brave daily – to speak up, to not be afraid of the judgement of others, and to live life to the fullest.
6) What fictional character would you want to date and who would you want for a best friend?
This question just made me realize I have way too many fictional crushes!
My date choice would be Will Herondale from Cassandra Clare's Infernal Devices series. He's a 19th century Welsh gentleman who's as charming as he is mischievous. What can I say? I have a weakness for men in top hats (I totally blame the BBC for that!)
As for a best friend, I'd love to have Theo Rockman (a.k.a Prometheus) as a bestie. He's such a good friend to Sophie in The Blooming Goddess trilogy. Besides, having him and Festos around would make life so much more entertaining!
7) What has been the biggest surprise/delight of your blogging career?
The biggest delight would probably be when I hosted my very own YA Feisty Female Tournament back in 2013.
It was my very first time hosting such an event, and it was so much fun! The tournament gave me the chance to interact with so many amazing authors and readers. The support was overwhelming, with thousands of readers taking part in the online polls – some even took to their blogs to support their fave heroine and to give her a fighting chance in the tournament. I enjoyed every minute of it!
Thanks so much for being with us today, Booknut. Check out 21st Century Once Upon A Times 
here
!
xo
Tellulah
Subscribe for bonus content and insider scoops!
Tellulah's Old Darlings