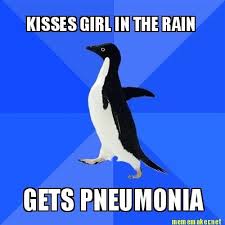 Real life kisses can suck. Even on Valentine's Day. Happily, that's why we have TV kisses to be the perfect ones that ours may not always be. This is the second part of my "best kisses countdown to Valentine's Day" series. (Yes, two posts can make a series.) If you missed part one about books, catch it here. Movies are the obvious choice to look at in terms of great kisses, that's why I'm exploring the potentially overlooked excellent of those small screen lip locks.
#1: Danny and Mindy in The Mindy Project: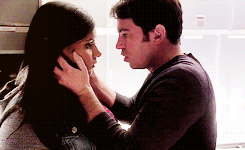 I'll admit it. I wrote this entire two-part series just so I could mention this kiss. But dear lord, what a kiss. I'm a sucker for best friends to lovers stories and this one had been a long, bumpy, torturously painful yet hilarious ride to this moment.
Best explosive tension ev-ah! And if you disagree, please keep silent so we can still be friends.
#2: Ross and Rachel in FRIENDS: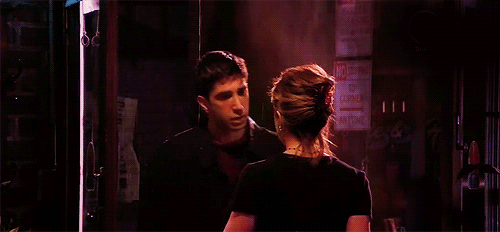 This one gets included not so much for the fact that they finally kiss, which admittedly was great, but because it comes about ten minutes after one of the funniest "WTF, you like me?" moments in history when Ross says, "You're over me? You're over me? When were you, uh, under me?" Here's the YouTube link to watch it for yourself.
#3: Willow and Xander in Buffy The Vampire Slayer: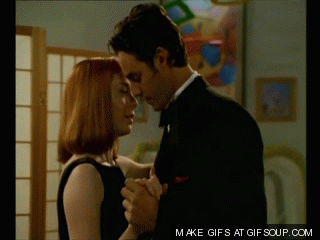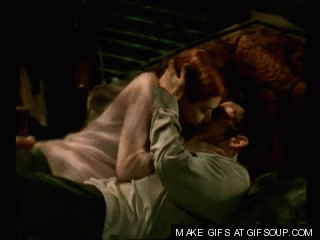 Before I hear your howls of outrage that I'm posting these adulterous kisses, let me say, yes, I too loved Oz (don't care about Cordy) and Willow and Xander kissing was wrong wrong wrong. Okay, now that that's out of the way – I loved that they finally hooked up in entirely the wrong way. She'd been in love with him for so long. And he finally got how great she was and maybe the fact that it was illicit made her hotter but still … I lived for this as a teen. (And an adult but whatever.) Let's just take a moment and relive this one.
#4: Will and Emma on Glee: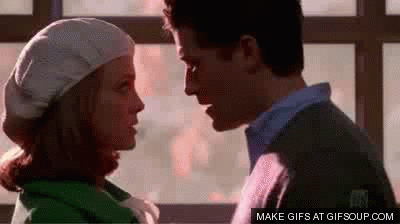 They faked us out with this one. Will had shown up at Emma's failed wedding to Ken and she had confessed her feelings to him. She walks past him and he grabs her arm and she's in her beautiful gown and glove and we think "it's going to happen" (squee) but no.
Emma rationally points out that he just left his wife. So we have to wait another ten minutes until the glee club kids are singing We Belong Together Now for him to run after her, put his finger to her lip to quiet her questions and kiss her. Dreamy sigh.
#5: Brian and Justin in Queer as Folk: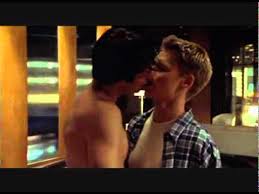 I couldn't find an animated gif for this one but take my word it's hot. Actually, no, it's an exquisite balance of super hot and ultra cheese with Divine singing You Think You're a Man on the soundtrack. And really, it's the combo that got it included.
There you have it. 5 fab kisses for you as we countdown to Valentine's Day. What are your guilt TV smooch re-watches?
xo
Tellulah
Subscribe for bonus content and insider scoops!
Twittering away...
https://t.co/1UHQhm57rN Cautiously optimistic about the premise
- Wednesday Feb 21 - 9:20pm
SPOILER ALERT! A fabulous video that you absolutely SHOULD NOT WATCH if you have not yet seen The Good Place s1 fin… https://t.co/Jqf3UnxHg3
- Tuesday Feb 20 - 4:15am
Lose yourself in a funny, sexy urban fantasy romance! The Unlikeable Demon Hunter: Crave releases Feb 20 and to cel… https://t.co/WPcUSnVRRu
- Sunday Feb 18 - 4:56pm
Bet you didn't know you could pair tap dancing and Star Wars! https://t.co/GS2qzvH7nJ
- Friday Feb 16 - 8:45pm
Better late than never! Discovered the Haim Time podcast on Beats One. So good!
- Friday Feb 16 - 6:45pm
Tellulah's Old Darlings