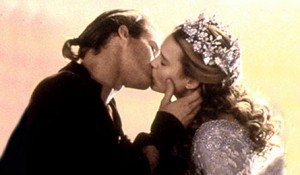 All right. I know that's a movie still but I promise to get to Wesley and Buttercup in this post. I'm not actually that into Valentine's Day. But I am a fan of great kisses so I figured this was the perfect opportunity to share some of my fav smooches in this two-part blog post. Today, it's all about books.
In no particular order, may I present 4 book kisses that are not to be missed: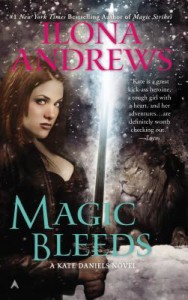 The Kate Daniels magic books are one of my favourite urban fantasy series. Four books I sat there waiting for Kate and the furry lion shapeshifter alpha Curran to kiss. Four. Books. Do you have any idea how much tumultuous sexual tension was built up in that time? So by the time the damn kiss finally came, there were major expectations to be met. And whoa, baby, did Ilona Andrews meet them.
"He leaned his head to me, his neck so close to my lips, I felt the heat coming off his skin. His breath was warm against my ear. His voice was a ragged snarl. "I miss you."
This wasn't happening.
"I worry about you." He dipped his head and looked into my eyes. "I worry something stupid will happen and I won't be there and you'll be gone. I worry we won't ever get a chance and it's driving me out of my skull."
No,no,no,no………
We stared at each other. The tiny space between us felt too hot. Muscles bulged on his naked frame. He looked feral.
Mad gold eyes stared into mine. "Do you miss me, Kate?"
I closed my eyes trying to shut him out. I could lie then we would be back to square one. Nothing would be resolved. I'd still be alone, hating him and wanting him.
He grabbed my shoulders and shook me once. "Do you miss me?"
I took the plunge. "Yes."
He kissed me. The taste of him was like an explosion of color in a gray room. It was a fierce, possessive kiss and I melted into it. His tongue brushed mine, eager and hot. I licked at it, tasting him again. My arms slid around his neck.
He growled, pulling me to him and kissed my lips, my cheeks, my neck… "Don't make me leave"
Not a chance. I gulped to catch my breath. "If you leave, how will I strangle you?"
He hoisted me up into his hips and I molded myself to him and kissed him on the mouth, stealing his breath. I didn't want to let go……
….. He made a noise, halfway between a growl and a purr. It triggered something deep, on a primeval female level, and I pressed tighter to him, running my hand over the cords of the muscles on his back, licking his neck, kissing him over and over, so he would make it again."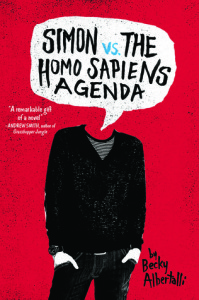 From mind whacked hot to incredibly sweet. This kiss happens after much of the story finds Simon yearning to kiss a guy whose real identity has been a mystery to him. So when his identity is finally revealed, the anticipation of the moment is delicious. Plus it's kinda awkward which is so true to teen kisses. Well, for me.
I'm not giving away the identity of Simon's big love though so you can keep reading.
"His eyes flick toward me.
And the rain makes a kind of curtain, which is probably for the best. Because all of a sudden, I'm leaning over the gear stick, and my hands are on his shoulders, and I'm trying to keep breathing. All I can see are XXX's lips. Which fall gently open the moment I lean into kiss him.
And I can't even describe it. It's stillness and pressure and rhythm and breathing. We can't figure out our noses at first, but then we do, and then I realize my eyes are still open. So I shut them. And his fingertips graze the nape of my neck, in constant quiet motion.
He pauses for a moment, and my eyes flutter open, and he smiles, so I smile back. And then he leans in to kiss me again, sweet and feather-soft. And it's almost too perfect. Almost too Disney. This can't actually be me."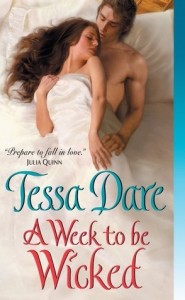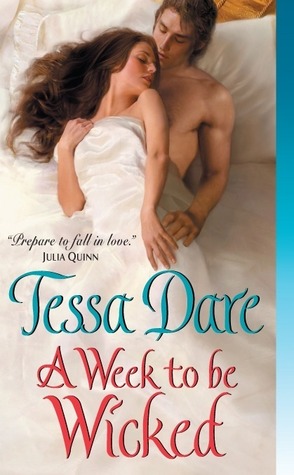 It goes without saying that all these books are favourites of mine. A Week to be Wicked fulfills all my "smart nerdy girl gets appreciated by hot rake" fantasies. I'm not alone here, right? My love doth overflow for the feisty, fabulous Minerva.
"Honestly? When I look at you …" His thumb stroked her lower back. "I think to myself something like this: God only knows what trials lie down that path."
She twisted in his embrace, pushing against his arm. "Let me go."
"Why?"
"So I can hit you."
"You asked for honesty." He chuckled, but kept her close. "This … this struggle is precisely my point. No, you don't fit the beautiful, elegant, predictable mold. But take heart, Marissa. Some men like to be surprised."
Marissa?
She stared at him, horrified. And thrilled. And horrified at being thrilled. "You. Are. The most–"
A bell jangled. The Bull and Blossom's door swung open, and a handful of giggling village girls tumbled forth, riding a wave of music and warmth. Minerva's breath caught. If the girls turned this way, she and Payne would be seen. Together.
"Surprise," she whispered.
Then she pressed her lips to his."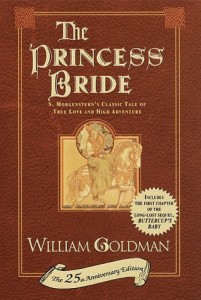 Told you I'd get here. For my last fav book kiss, I think I'll just let William Goldman describe it:
"There have been five great kisses since 1642 B.C. … (before then couples hooked thumbs.) And the precise rating of kisses is a terribly difficult thing, often leading to great controversy…Well, this one left them all behind."
What more could you want?
Share your favourite book kisses with me, darlings!
xo
Tellulah
Subscribe for bonus content and insider scoops!
Twittering away...
Finally worked my way through my TBR pile to Keystone by Dannika Dark and I'm so glad I did! https://t.co/7mNkl5f3dP https://t.co/DQRCBD1xCf
- Sunday Feb 25 - 4:54pm
Husband just remembered that once, when asked what she wanted to be when she grew up, my kid replied, "I wanna be on stilts!" #soproud
- Friday Feb 23 - 9:25pm
https://t.co/1UHQhm57rN Cautiously optimistic about the premise
- Wednesday Feb 21 - 9:20pm
SPOILER ALERT! A fabulous video that you absolutely SHOULD NOT WATCH if you have not yet seen The Good Place s1 fin… https://t.co/Jqf3UnxHg3
- Tuesday Feb 20 - 4:15am
Lose yourself in a funny, sexy urban fantasy romance! The Unlikeable Demon Hunter: Crave releases Feb 20 and to cel… https://t.co/WPcUSnVRRu
- Sunday Feb 18 - 4:56pm
Tellulah's Old Darlings