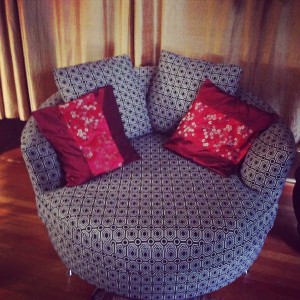 Thought I'd share my Armchair from the Armchair BEA Instagram challenge on Monday. It is without doubt the best chair in the world! I've trained my family to give me first dibs but the cat doesn't seem to care.
Today, in Armchair BEA we were encouraged to:
Now it is time to give a little love to those little stories in your life. Share your love for your favorite shorts of any form. What is a short story or novella that doesn't get the attention that it deserves? Recommend to readers what shorts you would recommend they start with. How about listing some short story anthologies based upon genres or authors? 
I have such admiration for people who write short stories. Years ago, when I was first starting out in my other life as a screenwriter, I wrote short films. I always had such a hard time paring my stories down into ten pages or less. As a novelist now, I still have that same respect for authors who can give me the satisfaction of a fully realized storytelling experienced in short form.
Two stories stand out for me in short form. One is literally a short story called The Lottery by Shirley Jackson. On required reading lists for English majors everywhere, even now, many years later, Jackson's tale of a town excitedly gathering for their lottery and the shocking reveal of what, exactly is to be won, has stayed with me. It might be hard in this day and age of stories like Battle Royale or The Hunger Games to appreciate the visceral punch of this tale, but I hope that time and context have not dulled its power.
As for novellas, there is one that I love so much, that I've shamelessly threatened to re-appropriate it as my own personal first date story. I mentioned it in my Monday post on Literature but it bears repeating. That is, course, Night of Cake & Puppets by Laini Taylor. Believe it or not, I'm not in love with the rest of this series. I find that while I like the characters, I tend to spend the first part of each book in a bit of a disconnect, slogging through plot until suddenly, like a tipping point, I am sucked in. But the novella, featuring Zuzana and Mik, is so smart and sweet and romantic and wonderfully swoony in every sense that it is a perfect little slice of storytelling.
How about you? What are some of your favs?
Subscribe for bonus content and insider scoops!
Twittering away...
https://t.co/1UHQhm57rN Cautiously optimistic about the premise
- Wednesday Feb 21 - 9:20pm
SPOILER ALERT! A fabulous video that you absolutely SHOULD NOT WATCH if you have not yet seen The Good Place s1 fin… https://t.co/Jqf3UnxHg3
- Tuesday Feb 20 - 4:15am
Lose yourself in a funny, sexy urban fantasy romance! The Unlikeable Demon Hunter: Crave releases Feb 20 and to cel… https://t.co/WPcUSnVRRu
- Sunday Feb 18 - 4:56pm
Bet you didn't know you could pair tap dancing and Star Wars! https://t.co/GS2qzvH7nJ
- Friday Feb 16 - 8:45pm
Better late than never! Discovered the Haim Time podcast on Beats One. So good!
- Friday Feb 16 - 6:45pm
Tellulah's Old Darlings